Helicopter carrier Ocean will be delivered to the Brazilian navy next June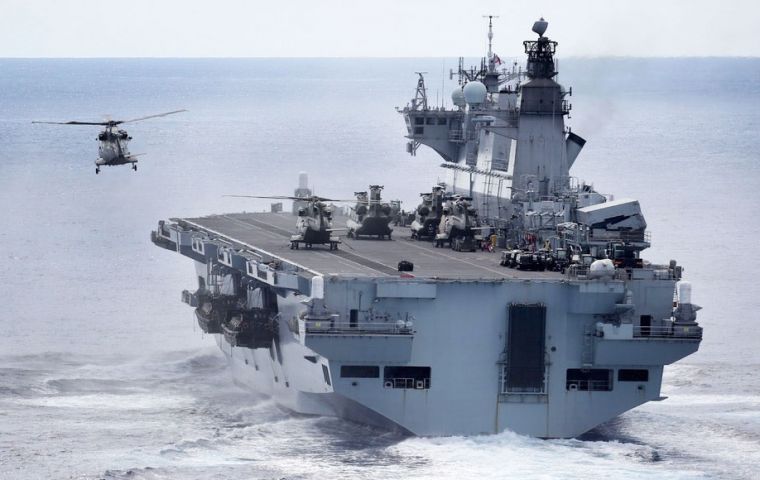 HMS Ocean pulled into Portsmouth for the last time as a Royal Navy ship as it is now due to be delivered to Brazil, which has bought the RN sole helicopter carrier. The Royal Navy's flagship has served for 20 years and has traveled all around the world. She was sold to Brazil for 84 million pounds (US$117 million) as new aircraft carrier HMS Queen Elizabeth prepares to take over as leader of the fleet
HMS Ocean will be modified by BAE Systems Plc and Babcock International Group Plc, with the work funded by Brazil, before the 21,500 metric-ton ship is handed over to the in June, the Brazilian Ministry of Defense said in a statement.
The Ocean was one of three amphibious assault vessels to be successively designated flagship after the retirement of Britain's most recent aircraft carrier in 2010, a trend defense experts said had left the Royal Navy weaker than ever before, since they couldn't accommodate fixed-wing aircraft.
Ocean saw no military action after becoming flagship in 2015. Earlier in its 20 years of service the vessel transported troops to an operation to end the Sierra Leone civil war in 2000, and carried helicopters during the international intervention in Libya in 2011. One of the most recent missions was humanitarian operations in the Caribbean.
The Queen Elizabeth, the biggest-ever Royal Navy vessel at 65,000 tons, is undergoing sea trials and will become flagship in due course, the MoD said. It and sister-ship HMS Prince of Wales will be each able to carry up to 36 of the most modern Lockheed Martin Corp. F-35 fighters.
HMS Ocean was constructed in the mid-1990s by Kvaerner Govan on the River Clyde and fitted out by VSEL at Barrow-in-Furness prior to trials and subsequent acceptance in service. She was commissioned in 1998 at a cost of £150 million and underwent a £65 million refit in 2014 to extend her service life.
The carrier has a top speed of 18 knots and can carry 18 aircraft including Sea King, Lynx, Wildcat, Merlin, Chinook and Apache attack helicopters.