Falklands confirm March 26 visit of Argentine relatives of identified soldiers at Darwin cemetery
Friday, February 23rd 2018 - 08:23 UTC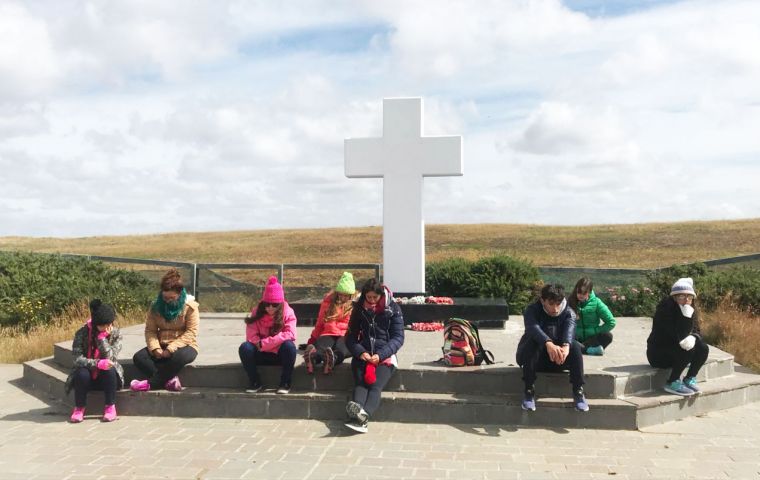 Following work undertaken by the International Committee of the Red Cross (ICRC) in identifying the remains of unidentified Argentine soldiers buried in the Falkland Islands Darwin cemetery, an Argentine private charter will be arriving at Mount Pleasant on Monday March 26.
According to a Falkland Islands Government press release this humanitarian visit to the Argentine cemetery in Darwin will allow families of the deceased to pay their respects and see their relative's gravesite observed with their name.
Families will not stay overnight, but return to Argentina the same day.
The release notes: "The Falkland Islands Government is working with the Families Commission to ensure that the visit is carefully managed and that the necessary plans are in place to preserve the solemnity of the occasion. Further information will be released to the public once final arrangements are agreed."
According to Buenos Aires sources, next of kin from the 88 identified remains, and Argentine government officials will be in the charter flight. Religious services, for different creeds, are scheduled and so is replacing the black granite tombstones, which currently read, "Unknown soldier, only known unto God" with the full name of the fallen combatant.
Last week a group of youngsters from Balcarce, a city near Buenos Aires, made use of their visit to the Falklands to photograph some of the graves together with a card identifying the soldier buried there. The cards were purely for photographic purposes and were taken away afterwards, but the photographs apparently were sent to the families of the occupants to bring them some comfort.
The group, consisting of fourteen students from the National College No.3 Carmelo Sanchez in Balcarce were participating in a project promoted by the "No me olvides" (Forget me not) Foundation and were accompanied by their history teacher, Mariana Rodriguez and two veterans: Daniel Cucci, making his first visit to the Islands since 1982, and more frequent visitor, Julio Aro.
Along with British veteran Geoffrey Cardoso, Julio Aro was one of the group whose lobbying for over 30 years led to the final identification by DNA of the previously unknown soldiers in the Darwin graves.
Last December Julio Aro accompanied another group of students from Mar del Plata also under the auspices of the No Me Olvides Foundation. A third group from Roque Pérez in Buenos Aires is expected in the coming months. (Penguin News)