Venezuela Electoral Court admits it's not prepared to organize presidential and legislative on the same date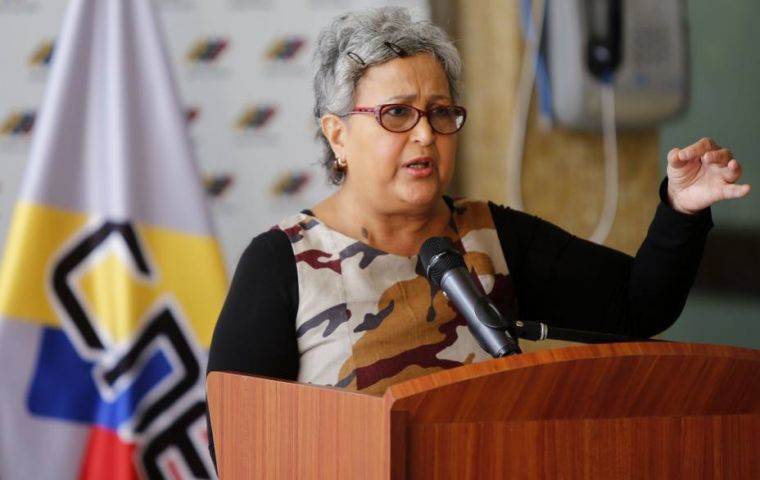 The president of Venezuela's National Electoral Council (CNE), Tibisay Lucena, dismissed the idea of holding legislative elections on the same day as the presidential election scheduled for April 22, as the ruling party has proposed.
"The CNE will decide on a later date for the legislative and municipal elections. We're not prepared at this time to hold joint elections," Lucena said.
The CNE president made that statement during a joint press conference together with the head of the ruling party's National Constituent Assembly (ANC), Delcy Rodriguez.
"The election called for April 22 is the presidential election," Lucena said after explaining that the vote to choose the nation's chief executive "is being held very early," which makes it impossible to make it coincide with the polling to elect lawmakers, as proposed by the ruling party, and which are "technically much more complex."
She repeated that the CNE will make a "technical evaluation" of the idea of holding the legislative elections earlier, first suggested by Chavista leader Diosdado Cabello and later backed by President Nicolas Maduro, who also asked that the April 22 elections include the 23 state legislatures and 335 municipalities around the country.
Lucena said that the 15 political organizations qualified to take part in the presidential election have fulfilled the necessary procedures with the CNE, so it is supposed "they are willing to participate," despite the fact that the MUD opposition coalition has decided to skip the upcoming election, which it considers a "fraudulent show."
Meanwhile, the speaker of the ANC, a legislative branch made up solely of Chavistas said that together with Lucena they will choose "the best date" for thoss elections proposed by the ruling party and that cannot be held on April 22.
The next legislative elections, according to the Constitution, should be held at the end of 2020, after the opposition alliance won in 2015 a large majority of seats in the National Assembly, a branch of government that was later declared in contempt of legally constituted authority by the Supreme Court of Justice (TSJ), an institution openly in line with the Maduro government.