Jeans will be made with laser technology: 90 seconds to finish a pair instead of 20 minutes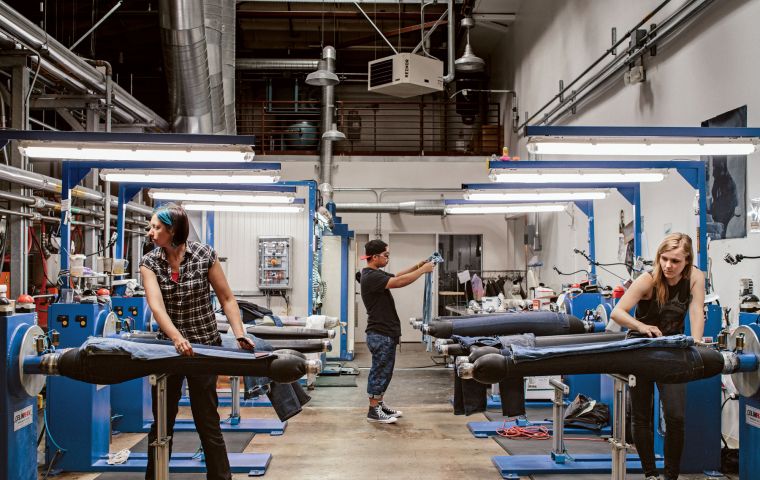 Levi Strauss is ramping up its use of lasers to automate the way its jeans are made. The firm says the new techniques will reduce chemical use and make the way in which jeans are faded, distressed and ripped more efficient. By replacing manual labor with lasers, Levi's will be able to finish a pair of jeans every 90 seconds, instead of just two to three pairs an hour.
It expects the new finishing method to be fully in place by 2020. Levi's said the new process is less "labor intensive" and will help the company be more responsive to local markets. The methods enable the firm to produce just a few kinds of jeans in bulk, quickly tailoring the finishes to buyer demands.
Chip Bergh, president and CEO of Levi Strauss & Co, called the process "the future of jeans manufacturing."
The firm relies on overseas contractors to make the vast majority of its products. But a spokeswoman for Levi's says the company does not expect any job losses "in the near-term", because employees can be retrained and put to work in other areas.
"Given the growth of our business with our vendors, we've seen that our manufacturing partners have generally been able to redeploy any affected workers," she said.
The move comes as clothing firms grapple with increased competition and a faster fashion cycle.
Fashions favoring leggings and other leisure wear have cut into blue jean sales, while retailers have been pressured to offer new trends more quickly, replicating strategies pioneered by low-cost, fast-fashion brands such as Zara and H&M.
Levi's new method involves taking a picture of the clothing, and using computer software that Levi's developed in house to design the coloring, rips and other details. Upgraded lasers then interpret the design, firing slits and other details into the denim.
The previous process could take more than six months from the start of the design cycle. That will be reduced to weeks - even days in some cases, Levi's said.
The number of steps involved in the finishing process - which used to involve hand sponging and sand papering wear patterns and other details onto the denim - will drop from 18 to 20 steps to about three, it said.
Levi Strauss worked with Spanish company Jeanologia, which specializes in industrial lasers, to develop the new methods.
They also allow the company to reduce the number of chemicals used to reproduce the worn look of vintage jeans. Those have attracted critics for their polluting effects.
The emphasis on automation comes as Levi's sales rose 8% last year, accelerating after several years of slower growth, but its profits slipped.
Levi's, which started in the 19th century as a seller of work trousers, and other products during the California Gold Rush, sells its products in more than 110 countries globally, making more than half of its sales internationally.