Prolonged drought wrecking soybean and corn crops, threatens Argentina's growth
Wednesday, February 28th 2018 - 09:37 UTC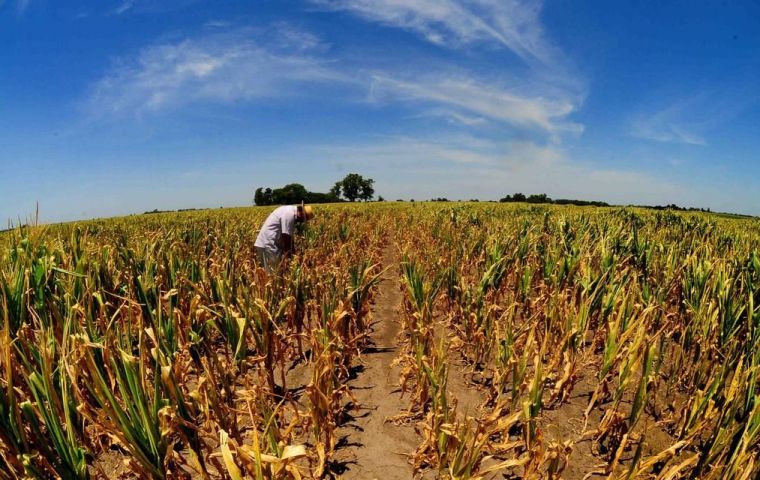 A prolonged drought wreaking havoc on Argentina's soybean and corn crops could threaten the country's economic performance in 2018, an official said, as the country seeks to grow for a second straight year after several years of biting recession.
The four-month dry spell has prompted analysts to slash forecasts for corn and soy output in the world's No. 3 exporter of both crops. Rains in the coming days could provide some relief but they are unlikely to reverse harvest losses in a country where agriculture is the backbone of the economy.
Since taking office in December 2015, President Mauricio Macri has sought to boost farm output by eliminating export taxes on corn and wheat and gradually lowering them for soybeans and soy products, winning praise from a sector that sparred bitterly with his populist predecessor Cristina Fernandez.
Wheat and corn production hit record highs in 2017, helping the economy expand an expected 2.8% after contracting 2.2% in 2016 as Macri implemented austerity measures and fought rampant inflation. A central bank survey of economists earlier this month found median growth expectations of 3% for 2018.
But the drought has intensified in the past two weeks, resulting in an expected decline in harvest value of US$3.1 billion, or 0.5% of GDP when compared to last year, J.P. Morgan said in a client note.
The drought has sent soybean futures on the Chicago Board of Trade to one-year highs, while soy-meal prices have also surged. Higher prices could offset some of the impact of lower production for Argentina, the world's No. 1 soybean meal exporter, J.P. Morgan said.
Agriculture made up 7% of Argentina's GDP in 2016, though that does not include vast soybean crushing operations and other agriculture-linked industries.
A lower economic growth rate would have substantial impacts for the government's near-term financial obligations. Argentina would be obligated to make billions of dollars in payments on growth-linked bonds if the economy grows more than 3% this year. It is expected to narrowly miss that level in 2017.