Falklands have three new young "ambassadors"
Monday, March 5th 2018 - 11:59 UTC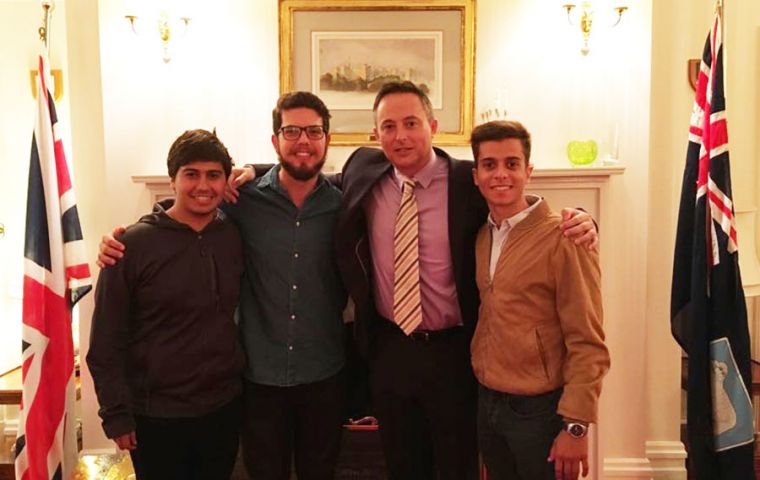 Three young people who, judging by their boundless enthusiasm for all things Falkland, could be ambassadors for the Islands after only a week in Stanley and the Camp. Mauricio Giraudo from Uruguay, Marco Franceschini from Brazil and Hristo Gomez, from Chile, are this year's winners of a competition organized each year by the British embassies in Montevideo, Brasilia and Santiago and sponsored and financed by the Falkland Islands Government.
Open to university students with good English, entrants are asked to present a one-minute video in English, entitled "Why I would like to meet my neighbors in the Falkland Islands."
The prize, to be won by one entrant from each of the three countries, is a one-week fully paid visit to the Islands. The three winners travel together and in previous years have been lodged with a local family to learn first-hand about life in the Islands.
The competition has as its objective, "to promote cultural interchange between the participating countries and the Falkland Islands and to increase the students' knowledge about the Islands and their people."
For this reason, the judging panels look for winners who are disposed to share their experiences through active participation in social media. This, it is hoped, will increase the spread of knowledge about the Falklands in the countries from which the competition runs.
This year, with no local families available to host the group, they had to be lodged in the Malvina House Hotel but a full program organized for them by the FIG Public Relations Department gave plenty of options for them to meet local people as well as to see wildlife at Volunteer Point and Bleaker Island.
During a visit to Penguin News all three enthused about the scenery and wildlife of the Falklands, but special praise was reserved for the abundant evidence they had found of a uniquely, diverse, warm, welcoming and well-organized country. The word they most used to describe the Falklands was "unique."
Knowing little about the Islands before arriving, except about the conflict in 1982, they all agreed that there was another more important story they now had to tell about the Falklands.
Individually these three young people were a pleasure to meet and good ambassadors for their own countries; collectively we can be sure that they will also be good ambassadors for the Falklands when they return home.
The three students also attended a reception at Government House in honor of the British Ambassador to Uruguay, Ian Duddy. (Penguin News).-