Drifting jigger towed outside the Falklands' Conservation zone
Tuesday, March 6th 2018 - 09:10 UTC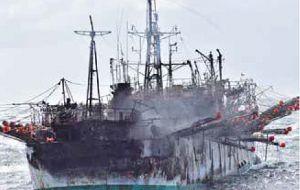 The Taiwanese jigger Hung Shun 1 which on 24 February caught fire to the north of the Falkland Islands capital Stanley, last Sunday was towed outside the Islands Conservation zone. When the incident took place last month all 58 crew members were swiftly and safely evacuated to another fishing vessel Lung Soon Fa 1, which was in the area at that time.
On Sunday according to a release from the Falklands government the reefer vessel Tai Fu 3 took the drifting Hung Shun 1 safely under tow on the morning of 3 March with assistance from the Fishery Patrol Vessel Protegat. Both the reefer and jigger exited Falkland Islands Conservation zones on Sunday afternoon heading north.
The cause of the fire is still yet to be established, although there is some speculation that the fire was caused due to an electrical fault.
The rescue and towing of the drifting jigger was coordinated by the Falklands' Fishing Operations team plus JK Marine, the local agents, as well as Yuh Fong Marine Products Co. Ltd who own and operate the jigger.