Falklands' calamari fishery: vessels equipped with robust seal exclusion devices
Tuesday, March 6th 2018 - 09:22 UTC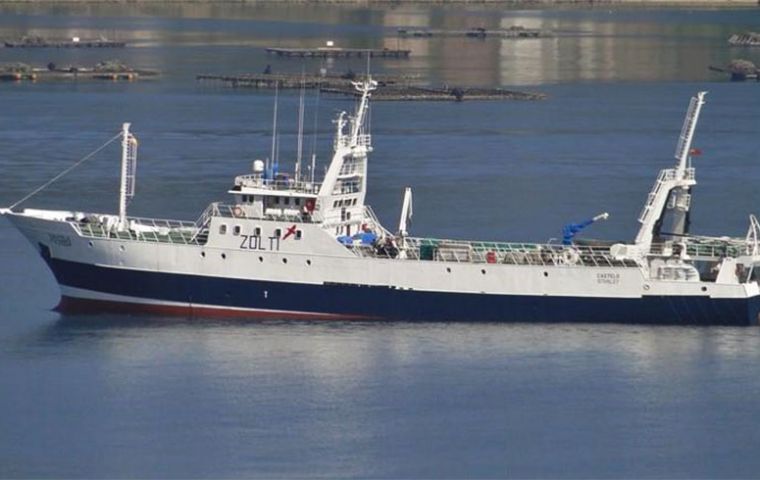 Falkland Islands Director of National Resources, John Barton, reported that after a slow start, fishery catches were beginning to pick up: trawlers had started operating and there were only a few jiggers still to collect their licenses.
Barton's report also gave some good news about the avoidance of unwanted interaction between the fishery and other life forms. The fishing vessel Castelo had been carrying out a pre-recruitment survey of Doryteythis gahi (Loligo) and reported that the seals which had caused problems last season no longer seemed to be present in the Loligo Box.
All vessels in the calamari fishery should now be equipped with robust seal exclusion devices should they be required and industry funded observers were being deployed across the entire fleet from the start of the season.
Earlier, the Falklands' Fisheries Committee had heard reports from Senior Fisheries Officer Bernard Meehan on Fisheries Protection and Boarding in 2017, from Acting Observer Coordinator Benjamin Keningdale on Observer Deployment and from Senior Fisheries Scientist, Dr Alexander Arkhipkin on the department's scientific program for the next two years.
None of these reports provoked much discussion, but Dr Arkhipkin complained that accurate forecasting in the case of the important Illex fishery was still made much more difficult by the paucity of information from Argentina about the migratory cephalopod as it passes through their waters.
Along with other members of the Committee, the Senior Fisheries Scientist expressed the hope that the current more relaxed atmosphere between the UK and Argentina might extend to the revival of the South Atlantic Council. (Penguin News).