Bignone, Argentina's last military dictator died; he was serving life sentence under house arrest
Thursday, March 8th 2018 - 10:11 UTC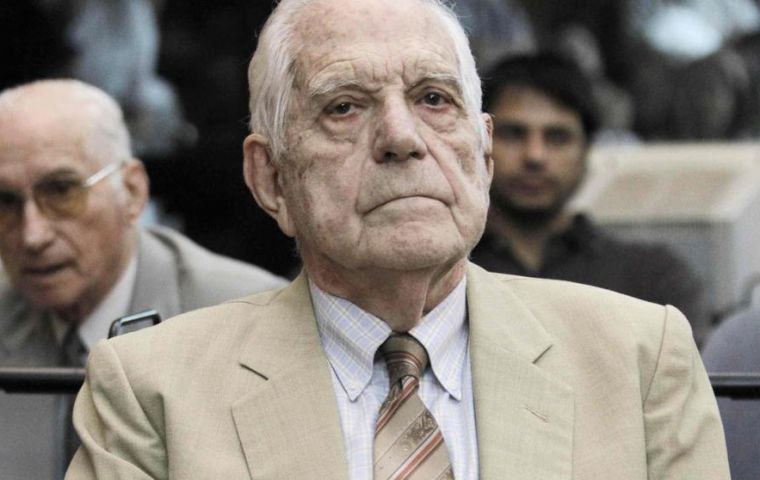 Reynaldo Bignone, the last military president from Argentina's 1976-1983 dictatorship, died on Wednesday at age 90, the country's state news agency said. Bignone had been serving life sentence under house arrest for multiple human rights crimes.
He was also serving time for the theft of babies from political prisoners who were later killed and for his role in an international conspiracy to kidnap and forcibly disappear dissidents across international borders known as Operation Condor.
He died at a military hospital in the Argentine capital of Buenos Aires, Telam news agency reported.
Bignone was named de facto president by the military junta after Argentina lost the 1982 war with Britain over the Falkland Islands. He was the last survivor of Argentina's four military presidents and his death brings an end to one of the symbols of the darkest chapters in Argentina's history.
Human rights groups estimate up to 30,000 people were kidnapped, tortured or killed during the dictatorship. Many were pregnant women who were "disappeared" shortly after giving birth in torture centers. The baby thefts set Argentina's brutal dictatorship apart from all the other juntas that ruled in South America at the time.
In 2011, Bignone received a 15-year-prison sentence for setting up a secret torture center inside a hospital during the 1976 military coup.
He was the military junta's social welfare delegate at the time and personally oversaw the takeover of the Posadas de Haedo hospital in Buenos Aires province, leading soldiers in tanks and helicopters in search of medical personnel who allegedly treated leftist guerrillas. The military dismissed all the doctors and nurses, but kept some for questioning. Eleven hospital staffers disappeared.
When he served as the junta's president in 1982 and 1983, he ordered the destruction of evidence documenting illegal detentions and disappearances, and he dictated a military amnesty for human rights violators before agreeing to transfer power to Raul Alfonsin, the democratically elected president.
In a landmark trial, Bignone was one of 15 former military officials who were found guilty by a court in 2016 for their role in Operation Condor. The covert operation was launched in the 1970s by six South American dictatorships that used their secret police networks in a coordinated effort to track down their opponents abroad and eliminate them.
"The genocidal Reynaldo Bignone is dead," said the HIJOS Argentine human rights organization, which brings together the children of the forcibly disappeared. "His family knows the time, the cause and the place. They'll also be able to give him a sendoff. But Bignone's thousands of victims won't".