Falklands' Darwin cemetery identified combatants are 89
Thursday, March 8th 2018 - 09:19 UTC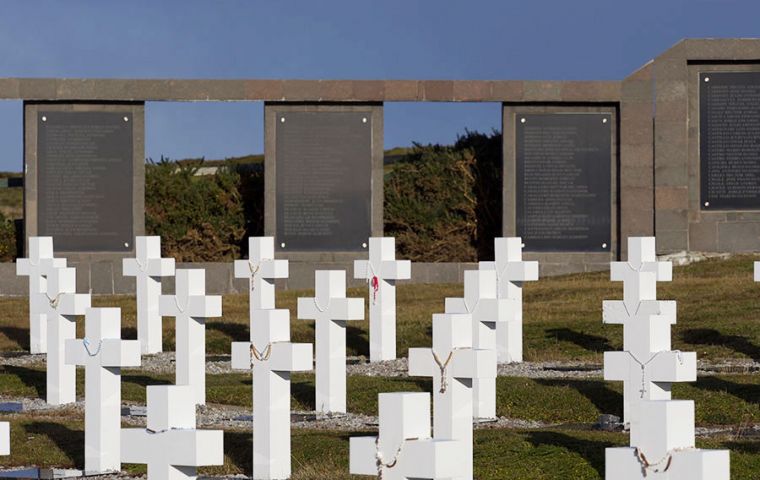 The Argentine government reported on Wednesday that is had concluded the relatives notification round of the recently identified combatants buried at the Darwin cemetery in the Falkland Islands, and which apparently total 89, one more than originally announced.
Media reported that the Argentine Human Rights Secretariat said that in the framework of the Humanitarian Plan, agreed by UK and Argentina, (and consented by the Falklands government) and under the coordination of the International Red Cross, of the 107 DNA samples provided by Malvinas combatants relatives and cross checked with unidentified remains in Darwin, 89 resulted positive.
"Using the same procedure, we have managed to advance a new identification which has been added to the original 88 reported", indicated Claudio Avruj, Human Rights Secretary.
This way the round of notification contacting each family and handing them a copy of the Red Cross forensic identification operation and results has concluded. The round also included those relatives who provided DNA samples but which were not compatible with any of the remains examined.
"It was a very professional job from all sides and we have identified 89 Malvinas Heroes, which were waiting for this very poignant moment for their families and the overall Argentine society", added Avruj
"We went through very emotional moments, an enormous opportunity to tell the families that the Nation stands with them, that we have worked for this humanitarian plan to become history, as a homage to those who did the utmost sacrifice, and to their next of kin".
Relatives of the recently identified combatants buried in Darwin will be flying for the day next 26 March, on two charter aircraft from Andes airline to honor their beloved. Secretary Avruj, a sanitary support team, religious representatives and other officials, including UK ambassador in Buenos Aires Mark Kent and staff are scheduled to be in the flight.
On Sunday another Argentine charter aircraft, from American Jet, (Metro 23), landed at MPA, previous stop in Comodoro Rivadavia, with the 88 black granite plaques with the full names of the identified combatants. They will replace the current plaques which read, "Argentine soldier, only known unto God".