Trump ready to sign metals' tariffs on Thursday; Mexico and Canada could be spared; Republicans object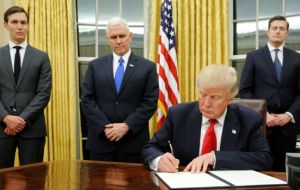 Some countries are now likely to be spared from planned tariffs on metals advocated by U.S. President Donald Trump. White House sources said Trump's controversial tariff plan could be put into action at a signing ceremony on Thursday afternoon.
"We expect that the president will sign something by the end of the week, and there are potential carve-outs for Mexico and Canada, based on national security, and possibly other countries as well, based on that process," White House press secretary Sarah Huckabee Sanders told reporters Tuesday.
Meanwhile on Wednesday, U.S. Representative Kevin Brady, a Texas Republican, and other House members wrote a letter to Trump urging him to minimize negative consequences if he goes through with the tariff plan.
Brady, chair of the Ways and Means Committee, joined with Representative Dave Reichert, a Washington state Republican who chairs the Ways and Means subcommittee on trade, led the lawmakers who warned the president about the drawbacks to his tariff plan.
The letter said "tariffs are taxes that make U.S. businesses less competitive and U.S. consumers poorer," and "any tariffs that are imposed should be designed to address specific distortions caused by unfair trade practices in a targeted way while minimizing negative consequences in American businesses and consumers."
The lawmakers recommended that Trump exclude fairly traded products and products that do not pose a national security threat; announce a process for U.S. companies to petition for duty-free access to imports unavailable from U.S. sources; and allow exemptions for existing contracts for steel and aluminum purchases. They also recommended doing a short-term review of the effects of the tariffs on the economy to decide whether the approach is working.
The tariffs are expected to impose a duty of 25% on steel imports and 10% on aluminum imports that Trump says undermine U.S. industry with their low prices. Trump boasted last week that trade wars "are good and easy to win" after his surprise announcement he planned to impose the tariffs on imports of the two metals. That prompted widespread criticism from his normal Republican colleagues in Congress and America's allies.
The president, according to staffers, acted on recommendations made by Commerce Secretary Wilbur Ross, formerly a billionaire investor, and Peter Navarro, an economist who is director of the White House National Trade Council. Ross said the planned steel and aluminum tariffs were "thought through. We're not looking for a trade war."
The tariffs proposal also won support from economic nationalists in the United States and some Democratic lawmakers in manufacturing states whose fortunes could be boosted by the tariffs protecting their metal industries.
The chief of the International Monetary Fund, Christine Lagarde, on Wednesday in a European radio interview, warned of a global trade war, predicting the U.S. tariffs could lead to "a drop in growth, a drop in trade, and it will be fearsome."
European Council President Donald Tusk echoed Lagarde's stance, saying, "The truth is quite the opposite: Trade wars are bad and easy to lose. For this reason, I strongly believe that now is the time for politicians on both sides of the Atlantic to act responsibly."