Tusk insists EU does not want to build a wall, but Brexit means "drifting apart"
Thursday, March 8th 2018 - 09:43 UTC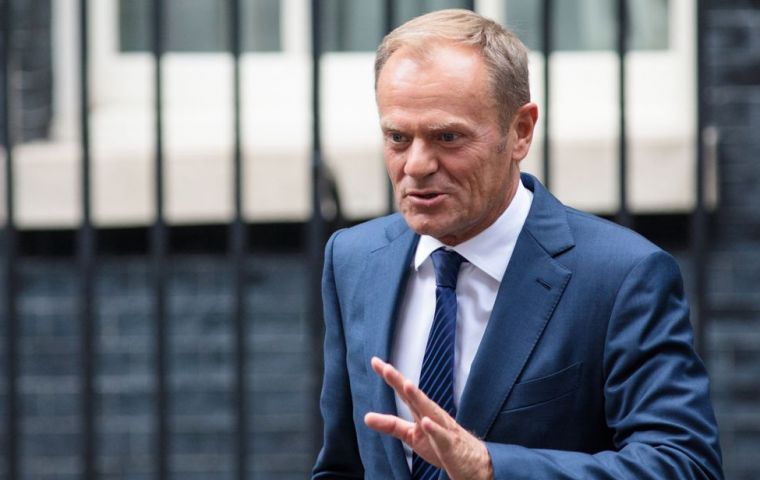 Donald Tusk has insisted the EU "does not want to build a wall", but Brexit means "we will be drifting apart". The EU Council president said Theresa May wanted to "demonstrate at any price that Brexit could be a success", but that was not the EU's objective. He was unveiling draft guidelines for the EU side of Brexit trade talks.
Mr Tusk said the EU wanted an "ambitious and advanced" free trade deal - and continued access to UK waters for EU fishing vessels.
"Our agreement will not make trade between the UK and EU frictionless or smoother," he said. "It will make it more complicated and costly than today for all of us. This is the essence of Brexit." He said it would be the first time in history that a free trade agreement would "loosen, not strengthen, economic ties".
The draft European Council guidelines call for zero-tariff trade in goods - where the EU has a surplus.
The document also says access for services will be limited by the fact that the UK will be outside the EU and will no longer share a common regulatory and judiciary framework.
The draft guidelines repeat EU warnings that there can be "no cherry-picking" of participation in the single market for particular sectors of industry.
Mr. Tusk said he wanted continued security and research cooperation and to ensure flights were not grounded. But he added: "No member state is free to pick only those sectors of the internal market they like, or to accept the role of the ECJ only when it suits their interest."
The draft guidelines also say that the EU will "preserve its autonomy as regards its decision-making, which excludes participation of the United Kingdom as a third-country to EU Institutions, agencies or bodies".
Donald Tusk unveiled his guidelines in a picture-perfect castle in the hills outside Luxembourg. A nice change to the usual venues in Brussels but the same tough message from the EU that the UK's red lines limit what it can get from the final Brexit deal.
The leaders of the remaining 27 EU states must approve the plans at a Brussels summit on 22 March, setting the template for chief negotiator Michel Barnier for talks with the UK about their future relationship.
The UK is due to leave the EU at the end of March 2019, and both sides have said they would like a deal on their future relationship to be agreed by this autumn to allow time for parliaments to approve the deal before Brexit happens.