Venezuela: close to fraudulent elections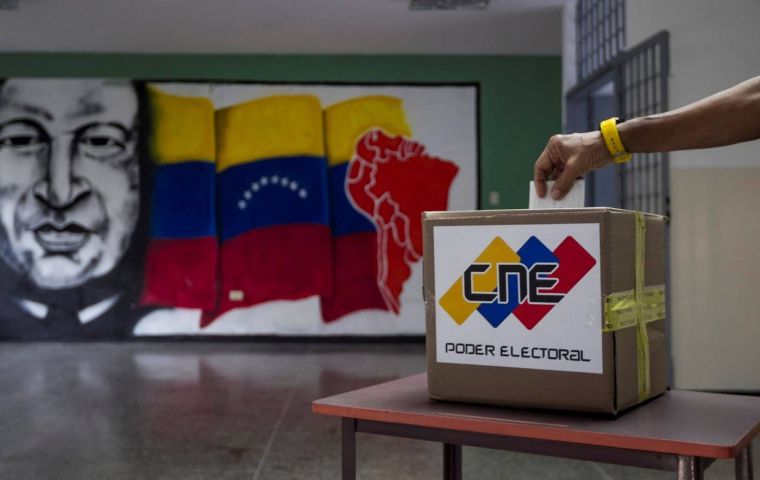 Venezuela's National Assembly, with opposition majority, denounced on Wednesday the "undue" use of electoral material, noting that official papers that belongs to the National Electoral Council (CNE) was found in gambling centers to print bet vouchers and presented its final report about the investigation into the case of the ex-rebel agent, Oscar Pérez.
The deputy to the Venezuelan Parliament, Delsa Solorzano, denounced that an investigation will be opened for the improper use of electoral material. "This is another evidence of the corruption of the electoral system in Venezuela," said the deputy. According to an image published on her Twitter account, the stamped paper with the abbreviations of the electoral council that is used to capture the vote is being used for sports betting.
Despite the accusations made by the international community, the refusal of the main opposition coalition - the Unity of Democratic Unity (MUD) - to participate in elections that they consider fraudulent and the failure of negotiations between opposition and government, the government is heading towards an election unilaterally called for May 20 as if nothing extraordinary happened. The bases of the government have already been activated and it is feared that its electoral base is highly dependent on the CLAP structure, whose function is the distribution of staple foods.
The Local Supply and Production Committees (CLAP) do not officially contemplate any electoral function. However, they have become an essential part of the official electoral logistics and strong propaganda elements during the electoral campaigns. According to Erick González, the government has implemented the "exchange of votes for food" strategy.
According to a document released by El Estímulo (spanish only), the communal councils - a government-dependent organ installed in each community - would be the basis for voting for all the beneficiaries of the CLAP program as has been done since the election of the criticized Constituent Assembly, formed by pro-government deputies only, in mid-2017 and always giving favorable results for Nicolás Maduro's government. Diosdado Cabello, the number two of Chavismo, celebrated that they would take "Raimundo y todo el mundo" (Raymond and the whole world) out to vote for the revolution thanks to the CLAP and communal councils.
Such complaints went to the UN Human Rights Commissioner and the International Criminal Court (ICC), to investigate thoroughly the case of Perez and his fellow insurgents, which according to the report presented by the deputy Solorzano before the Legislative, resulted in a "Extrajudicial execution".
The UN High Commissioner for Human Rights said he had received reports of extrajudicial killings in that country, among other violations of fundamental rights.
Zeid Ra'ad Al Hussein said Wednesday before the Human Rights Council in Geneva that "the situation in Venezuela is deeply alarming."
Zeid stressed that malnutrition has dramatically increased throughout the country, particularly affecting children and the elderly, and reports indicate that government assistance programs are often conditioned on their political affiliations.
Sebastián Astorga is the autor of this article.