Key aide of Temer indicted on corruption charges for illegal funding from Odebrecht
Thursday, March 15th 2018 - 09:25 UTC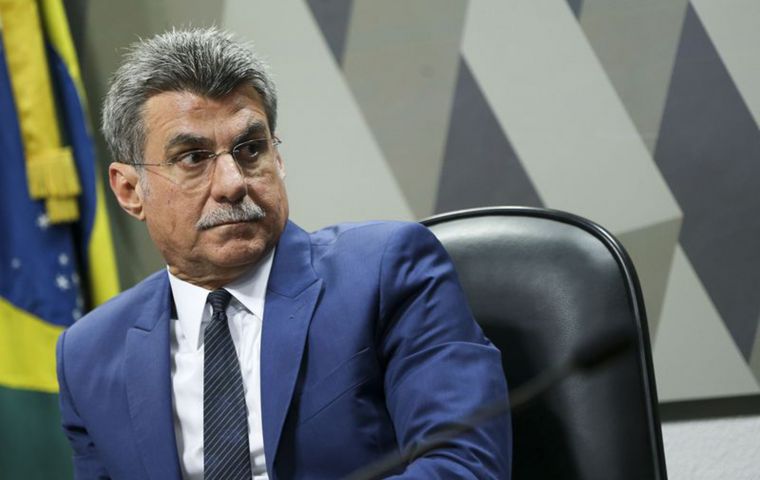 A key aide of Brazil's President Michel Temer has been indicted on charges of corruption and money-laundering. Senator Romero Juca, one of the major architects of the Temer administration's reform agenda and an advocate for central bank independence, is being charged with soliciting illegal campaign funding of construction company Odebrecht in return for political favors.
"There is no proof against him," Antonio Carlos de Almeida Castro, the senator's lawyer, said in a phone call, confirming the indictment. Juca subsequently issued a statement asserting that the donation was legal and registered with the authorities.
Corruption scandals continue to dog the Temer administration, and Juca is one of a number of close Temer aides who have faced accusations. The president himself was forced to expend considerable political capital fighting off charges last year, and he has come under pressure again in recent weeks, with the Supreme Court authorizing a probe into his banking records and the relationship between his party, the MDB, and Odebrecht, according to local media reports.
Juca himself has previously faced accusations of wrongdoing but now the Supreme Court has ruled that there is enough evidence to put him on trial. Formerly the minister of planning in the early days of the Temer administration, Juca resigned after a recording emerged in which he appeared to seek a way to block the country's ongoing corruption probe. He subsequently became the government's leader in the Senate.
Being honest and never having been involved in corruption are two of the most important traits a presidential candidate should have, according to a poll published earlier on Tuesday. Elections are due in October.