Boris Johnson points directly to Putin, the dictator. Furious reaction from the Kremlin
Saturday, March 17th 2018 - 06:58 UTC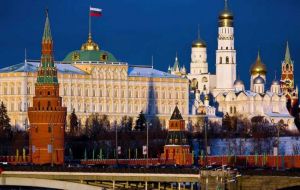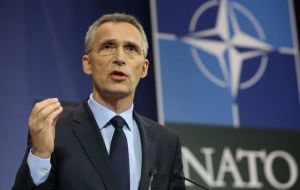 Russian President Vladimir Putin is "overwhelmingly likely" to have ordered the nerve agent attack on an ex-spy and his daughter, Boris Johnson has said. The foreign secretary underlined that "our quarrel is with Putin's Kremlin, and with his decision" over the Salisbury incident.
Russia denies involvement and said the accusations against Putin were "shocking and unforgivable".
Meanwhile, the head of Nato told the BBC that Russia has underestimated the "resolve and unity" of the UK's allies. Speaking during a visit to a west London military museum with the Polish foreign minister, Mr Johnson said the UK's "quarrel is with Putin's Kremlin".
"We think it overwhelmingly likely that it was his decision to direct the use of a nerve agent on the streets of the UK, on the streets of Europe, for the first time since the Second World War," he said.
Russian ex-spy Sergei Skripal, 66, and his daughter Yulia Skripal, 33, remain critically ill in hospital, after they were found unconscious on a bench in the Wiltshire city on 4 March. The UK government says they were poisoned with a nerve agent of a type developed by Russia called Novichok, and PM Theresa May said she believed Moscow was "culpable".
Mrs. May has said the UK will expel 23 Russian diplomats as part of a "full and robust" response - prompting Russia's Foreign Minister Sergei Lavrov to say it will "certainly" expel British diplomats in response.
Russia's investigative committee said it had opened a criminal case investigation into the "attempted murder" of Ms Skripal and "the murder" of Nikolai Glushkov, a Russian exile who was found dead in his home in London on Monday.
According to Russian news agency Tass, the Russian ambassador to Britain, Alexander Yakovenko, said the UK claimed the nerve agent used was A-234, but this has not been confirmed.
A Downing Street spokesman said the Organization for the Prohibition of Chemical Weapons (OPCW) has been invited to come to the UK to take a sample of the nerve agent - that process is expected to begin "imminently".
On Friday, Nato Secretary General Jens Stoltenberg said the alliance had "no reason to doubt the findings and assessments by the British government" which suggested Russian responsibility.
He said the "UK is not alone" and Nato allies gave "strong political support" to Britain, following a joint statement from the US, France and Germany backing Mrs. May's government and a pledge of support from Australia.
Speaking to BBC Radio 4's Today program, Mr Stoltenberg said the incident was part of a "pattern of reckless behavior" from Russia, following allegations of cyber attacks and election meddling in recent years.
"It is important that Russia gets a clear signal that it costs to behave the way they behave," Mr Stoltenberg said. "I'm absolutely certain that Russia has underestimated the resolve and unity of Nato allies when we have implemented different kinds of sanctions over the last years," Mr Stoltenberg added.
But Kremlin spokesman Dmitry Peskov said Russia was not worried by international expressions of support for the UK and challenged Britain to "provide some confirmation".
He said: "Sooner or later, the British will have to show some proof to those 'colleagues' who say they are with UK on this; sooner or later will have to stand up its accusations."
Ahead of an EU leaders' summit, German Chancellor Angela Merkel said discussions of a potential boycott of the World Cup in Russia are "not an immediate priority".
Wiltshire Police said 131 people had been identified as potentially being exposed to the nerve agent - but none has shown any symptoms.
Salisbury District Hospital has also assessed 46 people who came forward expressing health concerns but they were not admitted.
In a letter to the Times, Salisbury NHS Trust emergency medical consultant Stephen Davies said only three people - the Skripals and Det Sgt Nick Bailey - had needed treatment. Public Health England said the risk posed to the public remains low but they repeated their advice for anyone who had been to the Mill pub or Zizzi to wash their clothes and possessions.
A spokesperson said while it was clear a "significant dose" could have a "serious immediate effect", anyone in either venue "could only have been exposed to extremely small traces" and no further cases of illness have been reported.
Russia's ambassador to Britain Alexander Yakovenko claimed the UK had angled allegations against Russia to "divert attention from Brexit".
He criticized the lack of transparency and said: "Nobody saw even the pictures of these people in a hospital, whether they are alive or maybe they are in good health. Nobody talked to the doctors."
And Russia's Foreign Minister Sergei Lavrov said Russia had asked the UK to take action under the Chemical Weapons Convention. He also responded to Defense Secretary Gavin Williamson - who previously said Russia should "go away" and "shut up" - saying: "Maybe he lacks education."
Some 220 police officers from 16 forces, 80 ambulance staff, 50 fire officers, 200 armed forces personnel and 250 specialist officers have so far been deployed as part of the investigation, Wiltshire Police said.