Falklands: proposed second flight and stop in Argentina dominates public meeting debate
Tuesday, March 20th 2018 - 07:51 UTC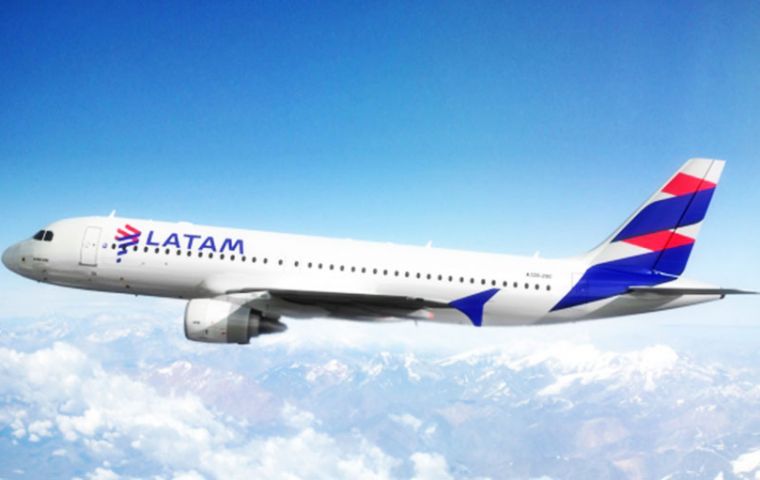 A lively exchange took place during the Falkland Islands March 12 public meeting in which the proposed second commercial flight to a third country with a stop in Argentina was considered. The public was particularly interested in knowing if any "red lines" had been established and wanted confirmation that one of the stop options was not to be Buenos Aires.
Likewise there were concerns that a second flight could mean a massive presence of Argentine tourists, which was feared by the elderly people in the Islands.
Penguin News reported the event and started by saying that the proposed second flight was the subject that dominated the first third of the public meeting on Monday.
Tim Miller was the first of several who questioned whether the process of the selection of an airline and a route was now, as promised, in the hands of the Falkland Islands Government, when all negotiations were currently in the hands of a commercial firm.
Like others after him, he wanted to know what 'red lines' or unacceptable options had been laid down by MLAs and his final question concerned what level of subsidy might be applied if a mid-week flight turned out to be financially unviable due to lack of customers or cancellations due to rotor winds.
To these questions and to further questioning about how MLAs would respond if the only option offered included a stop in Buenos Aires, portfolio holder, MLA Barry Elsby re-iterated what he had previously announced on local media, namely that the government had entered into a commercial process, the first part of which had been entrusted to consultants Aviation Economics.
It was Aviation Economics' job to consider all applications in terms of their technical and commercial capabilities and to weed out the obviously unviable before presenting MLAs with a report. It was at the end of this first stage that 'red lines' would come into play when MLAs would begin to consider candidates in the light of other considerations.
If, at this stage, none of the potentially commercially viable options were politically acceptable to the MLAs, then they would walk away. Emphasizing this point, MLA Roger Spink said that the economy was currently in good shape and although a second flight would aid its development, MLAs were not "desperate" to have another flight at any cost.
Other MLAs made the point that if the only option involved a stop in Buenos Aires, it would not be acceptable, nor would any new arrangement which threatened to undermine the current arrangements with LATAM. Taking up this point, Tim Miller suggested that the best arrangement would be for LATAM to be allowed to put on an extra flight if and when required.
Argentine presence
Discussion about flights during Monday's public meeting led on to fears being expressed by several people that a second flight would increase the number of visitors coming to the Falklands from Argentina.
Tim Miller, in particular, claimed that a number of elderly people were "frightened out of their wits" by the number of Argentines visiting the Falklands this week, though he later admitted that this summer there had been "no incidents."
Questions were also asked about the level of information currently being provided to Argentine visitors on arrival and whether it might be possible to introduce some kind of quota by means of a visa system.
During discussions about a second flight at Monday's public meeting, MLA Barry Elsby assured Dave Eynon that some movement on the lifting of sanctions imposed on the Falklands by Argentina as offered in the Joint Communiqué of September 2016, was a pre-requisite of any rapprochement between Britain and Argentina.
Both MLA Elsby and MLA Barkman assured the meeting that some beneficial movement was taking place, though MLA Edwards said that he considered that up to now we were "hearing noises, but no action from Argentina." In answer to fears expressed by Patrick Watts that the present more agreeable climate in relations might end if Scioli was to become the next Argentine president, MLA Elsby said this was why it was important to make as much progress as possible during the term of this Argentine administration. (Penguin News)