Norwegian company in Brazil apologizes for toxic spill into a local river
Tuesday, March 20th 2018 - 10:02 UTC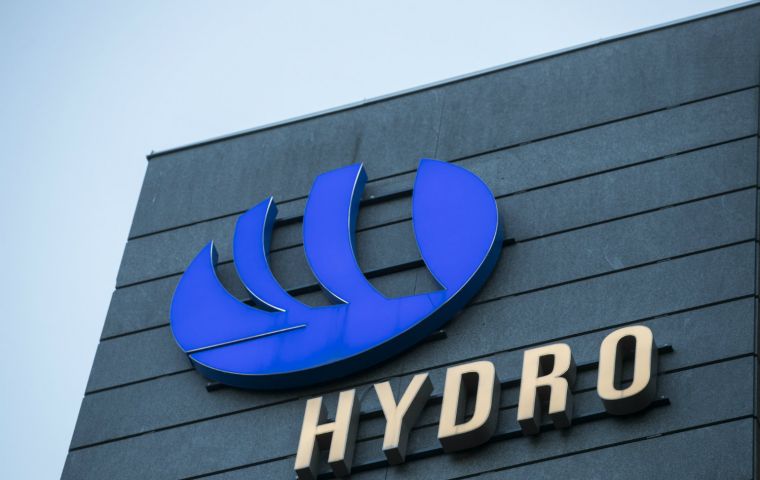 Norwegian energy group Norsk Hydro, accused of causing environmental damage in northern Brazil, on Monday apologized for the unauthorized discharge of untreated water into a local river from its aluminum factory Alunorte, the largest in the world.
"We have discharged untreated rain and surface water into the Para River," Chief Executive Svein Richard Brandtzæg said in a statement.
"This is completely unacceptable and in breach with what Hydro stands for.
On behalf of the company, I personally apologize to the communities, authorities and the society" he added.
Brazilian authorities have accused the company of having contaminated the Barcarena municipality's water with bauxite residues which they claimed had overflowed from a deposit basin at the Alunorte plant after heavy rainfall on February 16th and 17th.
In response, they slapped Norsk Hydro with two fines of 10 million reais (2.5 million Euros) each and ordered the aluminum supplier to halve its production at the site and suspend the use of the basin.
The incident poses risks to fishermen and other communities living near the Amazon River as the water they drink and bathe in have high levels of aluminum and heavy metals, according to an institute reporting to Brazil's ministry of public health.
The spills announced on Monday are independent of the extreme weather incident in mid-February, Norsk Hydro said.
"According to the license, all rain and surface water from Alunorte refinery area should have been led to the water treatment system", the company said.
It launched an internal investigation and commissioned an independent audit by the UK-based environmental consultancy, SGW Services, to shed light on these incidents.
On Friday, the company announced 500 million kroner (52.6 million Euros) investment in upgrading the water treatment system at the site.
These difficulties are of concern to investors: Alunorte, which is 92.1% owned by Norsk Hydro, has an annual production capacity of 6.3 million tons of alumina, the main raw material for producing aluminum.