Lula could have to begin serving his 12-year sentence next week
Thursday, March 22nd 2018 - 14:26 UTC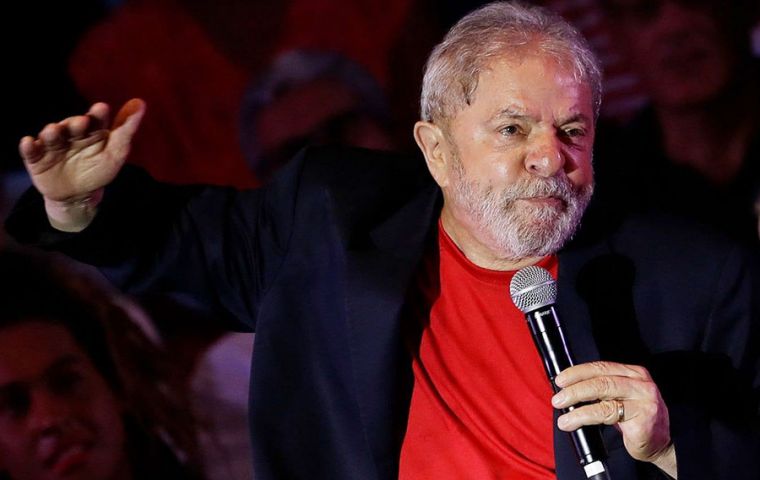 Brazilian federal appeals court will make a final ruling next week on a corruption conviction of former President Luiz Inacio Lula da Silva, a decision that could see the popular politician ordered to prison shortly afterward, the court's press office said on Wednesday.
The three-judge appeals court in southern Brazil will rule on Monday on the final procedural appeals by Lula's legal team. The same court has already upheld Lula's conviction on taking bribes and money laundering.
If the judges unanimously reject all the former president's appeals, it means that an order for Lula to begin serving his 12-year sentence could be issued a day or two afterward, even as Lula appeals to higher courts.
Lula, Brazil's first working-class president, oversaw years of robust growth and falling inequality during a commodity boom last decade, and has said he wants to run again for the presidency in October. He leads all early polls.
There is a chance Lula could avoid prison because of two possible rulings by the Supreme Court.
Chief Justice Carmen Lucia said on Wednesday the court would open hearings on Thursday on a request from Lula's lawyers that he not begin serving any jail time until he has exhausted all appeals. Earlier this month, Brazil's top appeals court rejected that request.
Also, there has been a push in recent days by several members of the Supreme Court to open debate this week or next on its own 2016 ruling that defendants could begin serving prison sentences after their conviction was upheld on a first appeal.
Before that, all possible appeals had to be heard before a defendant could be sent to prison. Critics said that had fomented a culture of impunity, as those wealthy enough to afford a protracted appeals process in Brazil's complex and badly backlogged legal system easily avoided jail time.