Stephen Hawking laid to rest alongside Newton and Darwin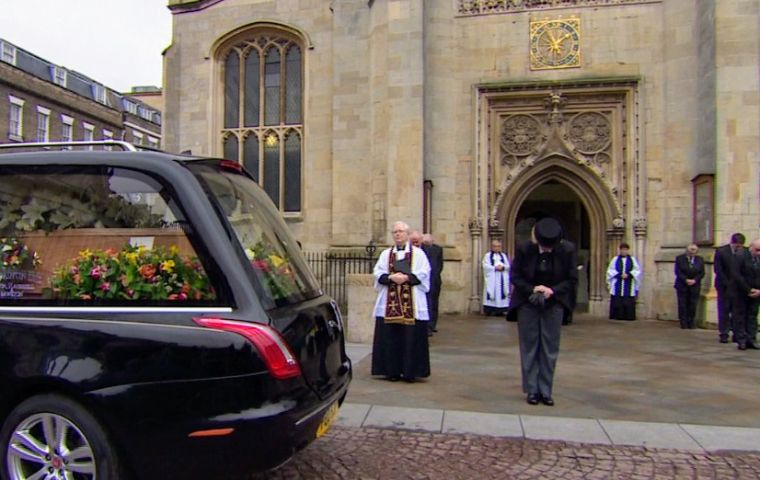 People gathered by the hundreds in the English city of Cambridge Saturday to pay their last respects to famed British scientist Stephen Hawking as his remains arrived at St. Mary the Great church where some 500 guests had been invited to the private funeral.
Hawking was given one last high honour: his remains were interred in Westminster Abbey among some of Britain's most legendary intellectuals. Hawking now lies next to 17th-century mathematical scientist Isaac Newton and near 19th-century evolutionary scientist Charles Darwin.
As the funeral procession arrived, bells rang 76 times -- once for each year of Hawking's life. Hawking died on March 14. He earned worldwide notoriety for his writings about space and time.
Actor Eddie Redmayne, who portrayed Hawking in the 2014 biographical drama "The Theory of Everything," gave a reading from Ecclesiastes during the service. There was also a reading by Astronomer Royal Martin Reese and eulogies by one of Hawking's children and a former student.
The scientist, confined for decades to a wheelchair and voice synthesizer because of the disease ALS, was known for his charisma, curiosity, and a crackling sense of humour. His science books and television cameos made him a pop-culture icon.
Hawking described his research as seeking "a complete understanding of the universe, why it is as it is and why it exists at all."
In addition to Hawking's family members, caretakers, former students, and admirers, the ceremony was attended by a number of famous faces. Among them was actor Eddie Redmayne, who played Hawking in an award-winning film biography of his life called The Theory of Everything, released in 2014.
Redmayne's co-star, Felicity Jones, model Lily Cole, Queen guitarist and astrophysicist Brian May, and Britain's Astronomer Royal, the Lord Rees of Ludlow (Martin Rees), were also there.
The eulogy, read by professor Faye Dowker, praised Hawking as someone "revered for his devotion as a scholar to the pursuit of knowledge."