Brazil Finance minister Meirelles expected to announce this week his presidential bid
Monday, April 2nd 2018 - 06:01 UTC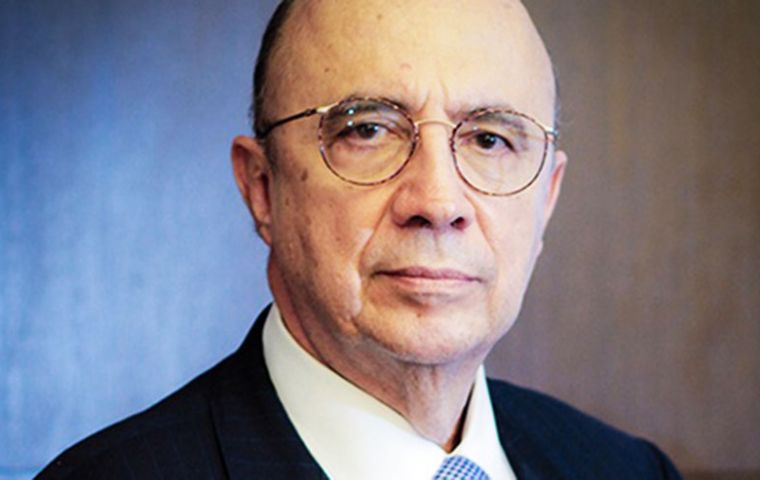 Brazil's Finance Minister, Henrique Meirelles, will step down from the government this week and join the ranks of the ruling Brazilian Democratic Movement Party, senior government officials said. The news of Meirelles' move was broken by the government's chief of staff, Eliseu Padilha.
Meirelles' quit from the post opens the possibility that he will run in the Oct. 7 presidential election, or be on the ticket as vice president. Meirelles is currently a member of the Social Democratic Party (PSD), which has said it will support him in the election.
Moreover, the minister of political affairs, Carlos Marun, also told the press that "the natural candidate is President (Michel) Temer but if he does not want it or can't run, Minister Meirelles' candidacy would be very welcome."
Under Brazil's electoral laws, if Meirelles plans to be a presidential candidate, he has to resign from the government post by April 7.
Meirelles' fame has been rising in Brazil as he is credited with turning around the country's economy after two years of severe recession. He also has a measure of cross-party appeal as he was governor of the central bank during the left-wing government of Lula da Silva.
The news of his exit spurred worries on Brazilian markets, which dropped before bouncing back amid indications that trade tensions between the United States and China might be alleviating.
While Meirelles denied for a long time he had any intention of running, he has since last year admitted he was thinking about the possibility.
Current polls find Lula leading preferred candidates for the October election, but he is facing a 12-year prison sentence for corruption that could bar him from running.