Malvinas Veteran and Fallen Day remembered in Argentina with two central ceremonies
Monday, April 2nd 2018 - 05:19 UTC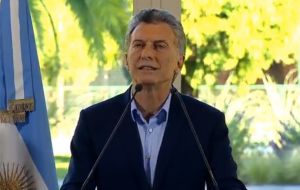 The 36th anniversary of the Falklands conflict in 1982 will be recalled in Argentina with two main events: Malvinas relatives will be received on Monday afternoon by president Mauricio Macri at his official residence in Olivos while Interior Minister Rogelio Fregerio will head the ceremony in Ushuaia, Tierra del Fuego, next to the Beagle Channel.
According to the Argentine calendar, April 2, which marked the beginning of the war when Argentine troops invaded the Falklands, is remembered as the Day of the Veterans and Fallen in the Malvinas war. At the Olivos ceremony Macri is expected to express the country's recognition and gratitude to all those involved in helping identify the remains of 90 (out of 123) unmarked graves at the Argentine military cemetery in the Falklands.
Last week some 200 relatives of the now for the first time identified combatants visited the Argentine military cemetery at Darwin to pray, mourn and honor their beloved. The original black granite plaques which read 'Argentine soldier, only known unto God', have been replaced with a tombstone with the full name.
Also attending the ceremony at Olivos will be Defense minister Oscar Aguad, and the Human Rights Secretary, Claudio Avruj, who last week travelled with the next of kin for the one day event at the Falklands Argentine military cemetery.
In Ushuaia minister Frigerio will head the central event of the 36th anniversary which is scheduled to take place at the Malvinas Plaza, next to the Beagle Channel. Also attending will be Tierra del Fuego governor Rosana Bertone, Ushuaia mayor Walter Vuotto, the head of the Ushuaia Malvinas veterans, Carlos Latorre, plus other officials, military personnel and religious representatives.
As part of the ceremony floral wreaths will be deposited in the Malvinas Plaza to the memory of the 649 Argentine military who lost their lives during the 1982 conflict.
Another ceremony organized by the umbrella organization of Malvinas War Veterans will take place at the cenotaph in the city of Pilar, province of Buenos Aires. The city is known also because it has in exhibition two aircraft from the 1982 conflict, a Hercules C 130 and the Mirage M-5 Dagger, C-434, which played a decisive role in neutralizing HMS Brilliant on 21 May 1982, according to the official release of the ceremony.