Falkland Islands joins RAF centenary celebrations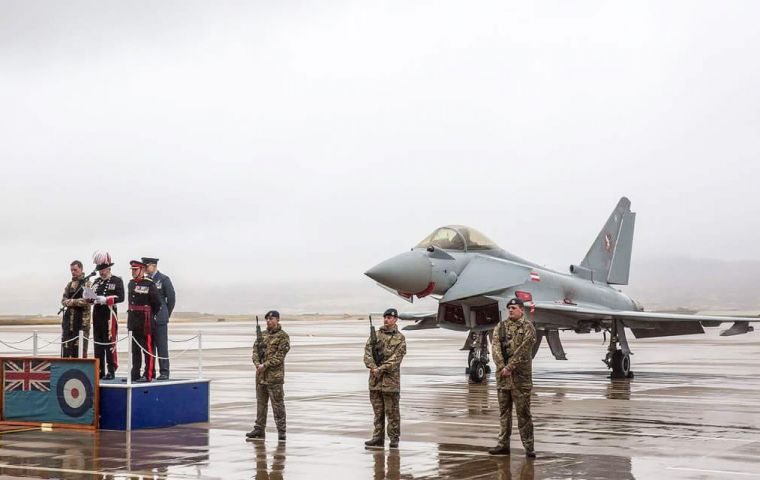 The Falkland Islands also joined Royal Air Force centenary celebrations. Despite poor weather the hangar event held at Mount Pleasant Complex, MPC, to celebrate RAF 100 the Royal Air Force Centenary (April 1) "went off perfectly," according to spokesperson for the event.
Hundreds from MPC and from around the Islands turned out for the parade and the hangar event, where there was a wide range of stands from a static Typhoon to military working dog demonstrations. The food stands were mobbed (mainly for warming brews) and every last crumb of delicious Oasis provided cake was eaten.
Happily the weather eased off so it was possible open up the newest attraction, the Atlas A400M, to a fascinated public. Biggest smiles of the day were from the children on the NEFI Rib and the greatest tennis skills were demonstrated by the Resident Rapier Battery. Money raised on the day goes to the Stoke Mandeville Neo-Natal Unit and the Royal Air Forces Association; the money is still being counted.
Stanley residents were treated to a fly past by the Hercules Aircraft on the weekend.
On July 10, one hundred days after the official 100th birthday, the RAF 100 center piece will occur in London with a parade and fly past at the Mall. Over the year in the UK there will be aircraft tour and Red Arrow shows. (Penguin News).