US budget deficit expected to balloon to US$ 1.5 trillion over the next decade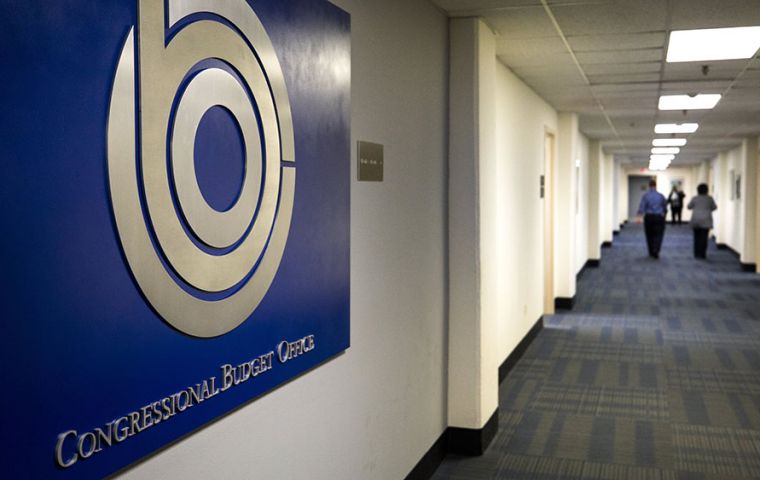 With the passage of deep tax cuts late last year, annual United States budget deficits are expected to balloon over the next decade, the nonpartisan Congressional Budget Office said on Monday.
The independent financial scorekeeper said that the long-term U.S. debt, now more than US$ 21 trillion, could soar to more than US$ 33 trillion by 2028, with increasing annual deficits jumping from US$ 804 billion this year to US$ 1.5 trillion in a decade. In the last fiscal year ending last September, the deficit was US$ 665 billion.
The increasing deficits could, over time, make it more difficult for the U.S. government to fund growth of domestic and defense programs. A bigger share of the annual government budgets — now about US$ 4 trillion — would have to be devoted to paying interest charges on the growing debt and could also lead to higher interest charges for U.S. businesses and consumers.
The CBO predicted a 3.3% advance this year for the U.S. economy, the world's largest, but a drop to 2.4% in 2019.
Numerous Republican lawmakers in the past often decried the increasing U.S. debt. But in their quest to pass significant legislation ahead of re-election campaigns later this year, congressional Republicans, with the support of President Donald Trump, adopted the US$ 1.5 trillion tax cut measure that has put more money in the paychecks of a large majority of American workers.
Democratic lawmakers said the tax measure mostly benefited wealthy taxpayers and corporations. No Democrat voted for the legislation.
On a bipartisan vote, Congress more recently approved a US$ 1.3 trillion spending plan running through the end of September that raised caps on military and domestic spending by about US$ 300 billion, also adding to the deficit for 2018.