EC president furious with Brexit: "only a united Europe can be a sovereign Europe"
Thursday, April 12th 2018 - 07:20 UTC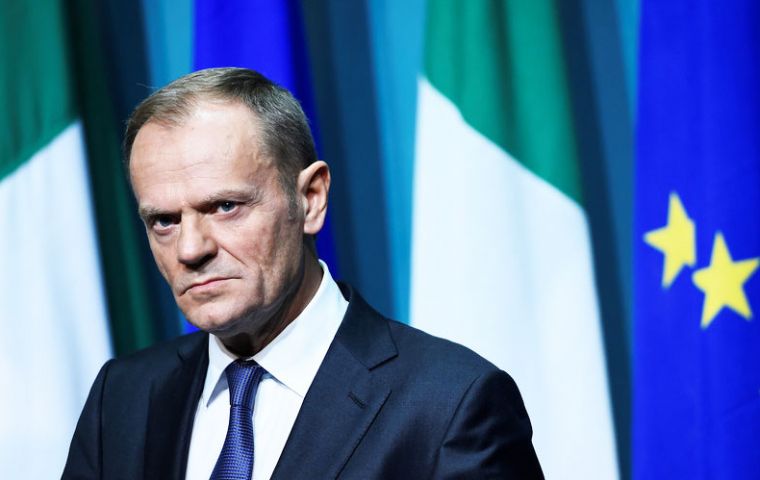 European Council President Donald Tusk has said Brexit makes him furious, and called on Europe to unite during a speech in Dublin. The statesman warned it would take very little time to demolish the structures of peace and unity built up in the continent.
To applause he said: "I don't like Brexit." He added, "actually, I believe Brexit is one of the saddest moments in twenty first-century European history." "In fact, sometimes I am even furious about it."
Last month Mr Tusk said EU leaders wanted to see positive momentum in the negotiations to finalize a solution avoiding a hard Irish border.
The leaders agreed to proceed to the next stage of Brexit talks surrounding a transitional deal between the UK and EU.
Mr Tusk added: "This year will be about Brexit, mainly, unfortunately. Instead of integration, I will be dealing with disintegration, in fact, some kind of damage control process, and my main focus will be to eliminate or at least reduce negative side effects of Brexit, with the Irish question, of course, in the centre of my attention."
European and British negotiators are seeking a solution to Northern Ireland's border with the Republic after Brexit. Visiting Ireland on the 20th anniversary of the Good Friday peace agreement in Northern Ireland, he warned of the potential for conflict in Europe.
"Today it is not enough to call for unity and to protest against multiple speeds."
"It is much more important that we all respect our common rules such as human rights and civil liberties, freedom of speech and freedom of assembly, checks and balances, and the rule of law." "This is the true foundation of our unity."
Mr. Tusk said they had many reasons to be satisfied, as a generation which has united Europe.
"But we have as many reasons for concern, as a generation that could still unfortunately make it to the gloomy and for sure spectacular show of another European disunion."
"You may think I am over-sensitive to this threat. But our two countries don't need reminding about how much effort, suffering and time is needed to build peace and unity without coercion, in the conditions of freedom."
"And how little time and effort is needed to undermine and demolish this structure."
He noted potential for conflict wherever he looked and said in Belfast on the 20th anniversary of the Good Friday Agreement, thousands of people were looking with concern and anxiety to the future of the peace process after Brexit.
"Only a united Europe can be a sovereign Europe in relation to the rest of the world, and only a sovereign Europe guarantees independence for its nations, guarantees freedom for its citizens."
"The unity of Europe is not a bureaucratic model. It is a set of common values and democratic standards."