Falklands tourism operators agree 2017/18 was a successful cruise season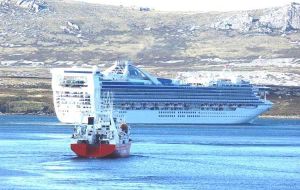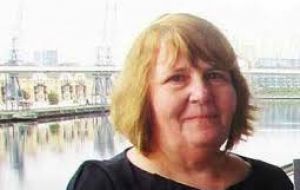 Visitor arrivals to the Falkland Islands were up 3.1% compared to the previous tourist season, confirmed Executive Director of the Tourist Board Stephanie Middleton to Penguin News. The Falklands' season ended on April 7 with total visitor arrivals for the season at 57,496. Ms Middleton outlined how, as with last season, it was the expedition vessels that mainly contributed to the hike in numbers.
Visitors arriving on expedition ships totaled 13,686, up 17%, and the total number of calls in Camp was a record breaking 156, compared to 123 last season.
Overall, there were 108 vessel calls scheduled to visit the Falklands (some vessels visited several islands in a single trip), which is just one less than in 2007-2008; the busiest season on record.
One third of all visitors were from the USA, followed by the UK (13%) and Canada (10%). Growth market China only generated 2.6% of all visitors, in seventh place.
Ms Middleton said "This season has gone entirely to plan. Forecasting cruise arrivals is very difficult as there are so many factors affecting demand; however our forecasts at the beginning of the season were only 900 passengers out!
Fortunately only five vessels cancelled, with a loss of around 4,500 passengers, all due to the weather, so we are pleased to achieve the number of visitor arrivals predicted."
Tourism Coordinator for Sulivan Shipping Services Ltd Carli Sudder told Penguin News they felt the 2017/2018 season, "was again another successful season for the expedition ships with an increase in Camp landings overall, and some islands reporting record numbers."
She said Bull Point also received a visit from the NG Explorer which has been an addition to the usual landings list.
The Silver Cloud and the Island Sky were new visitors around the outer islands this season, she said, "along with a long list of familiar visitors including the Ushuaia, Akademik Sergey Vavilov, Bremen and Fram.
"The Hanseatic saw her last visit with us under Hapag Lloyd, but we will see her again next season as the RCGS Resolute with One Ocean.
"The number of passenger exchanges increased slightly as did the number of pre/post-cruise visitors. The Falklands is a very popular destination with the expedition ship passengers and great feedback about the islands was received."
Penguin Travel Manager, Falkland Island Company Ltd Stacey McKay, was also delighted with the season. She said: "We have had an extremely busy and successful season; eighteen of the nineteen planned vessels made it into port.
"We are fortunate to work with supportive captains and crews on board the vessels who made a real effort to work around weather forecasts ensuring they made it here, allowing their passengers the opportunity to visit the Islands and enabling our team to ensure that many thousands of guests got to enjoy their pre-arranged tours with Penguin Travel." (Penguin News).-