Brazilian state asks Supreme Tribunal to "temporarily" close border with Venezuela
Saturday, April 14th 2018 - 11:22 UTC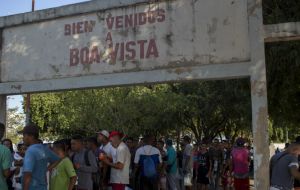 The governor of Brazil's northern state of Roraima on Friday asked the Supreme Federal Tribunal for permission to temporarily close the only land border crossing with neighboring Venezuela to halt the massive and disorderly arrival of refugees. But Brazil's President Michel Temer, attending the Summit of the Americas in Lima, said closing the border was "unthinkable."
Roraima Governor Suely Campos petitioned the high court to order the federal government to step up assistance for her state to deal with what she called a humanitarian crisis. She also asked that the border be closed until orderly immigration procedures could be put in place.
Campos said she had to resort to the top court because the federal government had not acted on her state's requests. It is not clear if the court with take up her plea.
More than 50,000 Venezuelan refugees have arrived in Roraima since last year, fleeing an economic crisis and political strife in their country, the governor told reporters. The influx was nearly equal to 10% of the state's population of 520,000 inhabitants.
The refugees have overloaded health, housing and education services, Campos said, bringing the threat of disease and social disorder. Many of the refugees have walked hundreds of kilometers to reach the state capital Boa Vista and have been sleeping in squares and other precarious areas in the city.
Campos said every day more than 500 Venezuelans crossed the open border, where immigrants are allowed to enter with no visa, just by showing a Venezuelan document.
"We have to require more documents, vaccination cards, criminal background checks, the inspection of cars. There has to be a way to contain this influx," Campos said.
The federal government declared an emergency in February to boost funding for Roraima and doubled the number of troops at the border. It has also begun to use Air Force planes to move Venezuelan refugees to larger Brazilian cities.
But it has said it will not close the border because that would violate international treaties.
Temer said his government was delivering assistance requested by Roraima, and he hoped the Supreme Court would deny the state's plea to shut the border.
"It is not Brazil's way of doing things, closing borders," he told reporters.