OAS mission will observe the Mexican elections of July first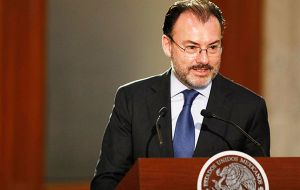 The Organization of American States (OAS) and Mexico signed an agreement on the privileges and immunities of the Mission of Foreign Visitors that will observe the July first federal and local elections.
After signing the agreement, the Secretary General of the OAS, Luis Almagro, explained that "the objective of this kind of mission is to contribute to the strengthening of electoral processes in the hemisphere, promoting integrity, impartiality, transparency and credibility."
This will be the fourth mission the OAS has sent to elections in Mexico.
For his part, the Secretary for External Relations of Mexico, Luis Videgaray, emphasized that "the observation of the OAS through the Department for Electoral Cooperation and Observation, that carries out observation across the hemisphere, will be no doubt a fundamental contribution to this process."
During the July 1 elections, Mexicans will elect the president, 128 senators, 500 deputies, 8 governors, the Mayor of Mexico City, and thousands of local and municipal posts.
Secretary General Almagro appointed the former President of the Dominican Republic, Leonel Fernández, as Chief of Mission.