Who is Miguel Díaz-Canel who is expected to lead Cuba after 60 years of the Castro dynasty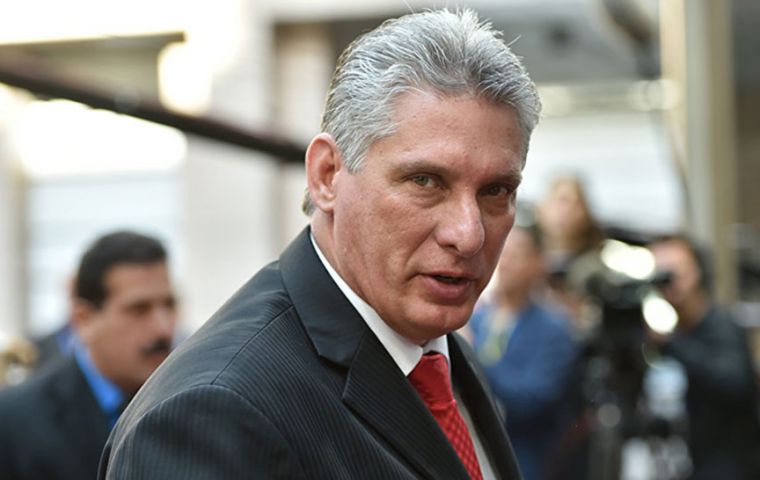 Cuba is set to undergo a historic shift this week, elevating a relatively unknown Communist Party official to replace retiring President Raúl Castro. But who is Miguel Díaz-Canel? And what does his ascension to the top of Cuba's government mean for a country that has been run by the Castro brothers for nearly 60 years?
Little is known about the 57-year-old (58 on Friday) heir apparent who is expected to lead Cuba in a post-Castro world. He has not granted interviews to foreign media, and the state-run newspapers in Cuba have only shared snippets of his travels inside of Cuba and abroad.
Christopher Sabatini, a lecturer of international relations and policy who has studied Cuba, said the shroud of mystery surrounding Díaz-Canel is by design. The Cuban regime, he said, has carefully presented a profile of a man who is a staunch communist, but one in touch with Cuba's younger generation as it transitions away from Castro's contemporaries.
"He likes the Rolling Stones. He likes the Beatles. He has an iPad. We hear that repeated over and over," Sabatini said. "That to me smacks of a well-managed (public relations) campaign."
Starting this week, Díaz-Canel will carry the weight of the presidency at a time when relations with the U.S. are becoming more antagonistic and Cuba's main economic lifeline, Venezuela, is falling to pieces. Here are four things about the future leader.
After graduating from college in the central city of Santa Clara, Díaz-Canel performed his three years of obligatory military service and jumped right into party politics.
In 1987, he joined the Young Communists' Union and started rising through the ranks. By 1994, he was named first party secretary in Villa Clara province. Neighbors say he didn't move to the larger homes provided by the government to people in that position.
In 2003, he was named first secretary of the more populous province of Holguin in eastern Cuba, and was also named to the Communist Party's Politburo, one of its highest decision-making bodies.
In 2013, Castro named Díaz-Canel first vice president of the Council of State, placing him in line to replace Castro.
Díaz-Canel maintained a separate career track throughout his time in politics. After finishing his military service, he worked as an engineering professor at the University of Santa Clara. Years later, he was named Cuba's minister of education.
Cuban media fawned over his approach to that role, boasting that he was one of the first high-ranking government officials to bring a laptop to government meetings, and pushing for more technology in Cuba's under-funded classrooms.
Cuba's state-run newspaper, Granma, routinely publishes stories of Díaz-Canel's visits to schools around the country. During a visit to schools in Santiago de Cuba, where the remains of Fidel Castro were interred in 2016, Díaz-Canel called on teachers to carry on one of Castro's legacies by ensuring that free education endured.
"If we took the oath that Fidel would always be with us...this work must become a bulwark, so that in the process of training young people, they are able to channel our comandante both in their sentiments and daily actions," he said, according to Granma.
Would-be successors to the Castro brothers have come and gone, but the Cuban regime has been easing Díaz-Canel into more prominent roles in recent years.
According to state media, he has hosted meetings in Cuba with leaders of Mexico, Spain, Germany, India, Pakistan, El Salvador, South Africa, Portugal, the United Arab Emirates, the Vatican, and New York Gov. Andrew Cuomo.
He has also led government delegations to Russia, China, Japan, North Korea, Nicaragua, Ecuador, Angola, Bolivia, and the 2016 Summit of the Community of Latin American and Caribbean States.
In recent years, Cuban reporters have chronicled his trips around the island as he visited schools, business centers, manufacturing plants and sugar mills.
The few times he's spoken publicly, Díaz-Canel has made clear that he's a true believer in the Marxist-Leninist ideology that formed the basis of the Castro revolution. He's also fully embraced the island's suspicion of the Yankees to the north.
In a speech in October, he blasted the United States for its insistence that Cuba move toward a more democratic government.
"Imperialism can never be trusted, not even a tiny bit, never," he said, echoing the words of Ernesto "Che" Guevara on the 50th anniversary of his death.
His most extensive comments came in a video that was leaked and posted on YouTube by Cuban dissident Antonio Rodiles last year. In the video, Díaz-Canel said the embassies of the U.S., Norway, Spain, Germany and Britain were supporting "subversive activity" on the island. And he vowed to crack down on dissidents and independent media, who he said were being paid by foreign actors trying to foment dissent.
"We will shut it down," Díaz-Canel said of one website. "Let the scandal ensure. Let them say we censor. Everyone censors here."
Such comments, Sabatini said, show that the public image the Cubans are trying to put forth masks the reality that Díaz-Canel will act no differently than his hard-line predecessors.
"There's no reason to believe otherwise," Sabatini said. "He wouldn't have made it this far if he wasn't".