International coffee house and Mexican partner open first store in Montevideo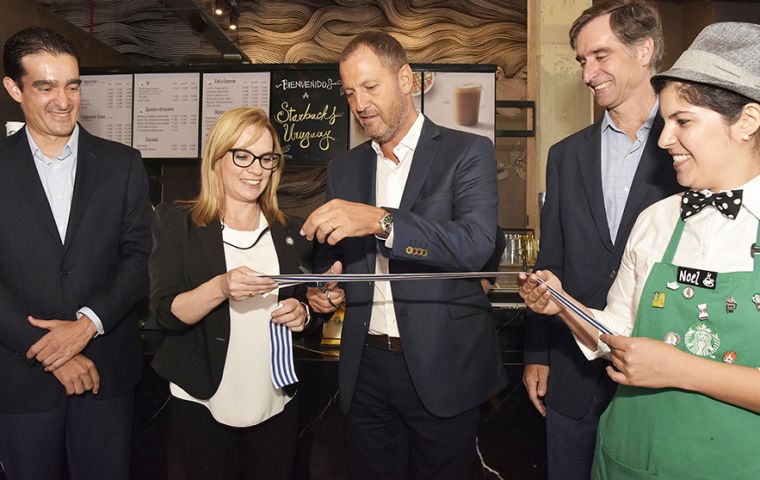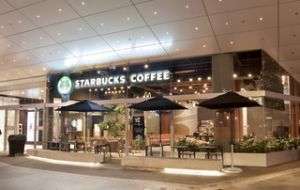 Starbucks has opened with great success its first store in Uruguay at the Montevideo Shopping mall in the capital city Montevideo. The store has a unique design and offers a wide range of Starbucks beverages and food, including Starbucks 100% arabica coffees from Latin America and around the world.
International retail and restaurant operator Mexico's Alsea exclusively owns and operates Starbucks stores in Uruguay.
"Our first store in Uruguay marks a key milestone for our expansion in Latin America," said Ricardo Rico, Starbucks general manager and vice president for Latin America, who attended the opening celebrations in Montevideo.
"We're filled with pride to open our first Starbucks store in Uruguay, which bolsters, without a doubt, our solid growth strategy in the region," said Federico Tejado, Director of Alsea International. "It also represents our first step in the local market, where we hope to close the year operating at least 5 stores of the brand. We hope to reach 10 stores in operation by 2020 and generate more than 130 direct jobs."
Overall investment is estimated in some ten million dollars.
Starbucks first entered Latin America in 2002 and since then, Alsea has expanded Starbucks retail operations to include Mexico, Colombia, Argentina, and Chile, together operating more than 900 Starbucks stores in these markets. Alsea will similarly own and operate Starbucks retail stores across Uruguay. The opening in Uruguay marks Starbucks 77th global market, and 18th in the Latin America and Caribbean region.
"We are proud to present a one-of-a-kind store that will make all our partners and customers in Uruguay feel proud," said Pablo Jaratz, general manager of Starbucks Uruguay. "Our passionate and knowledgeable baristas have spent many months training with some of our best Starbucks baristas, coffee masters and experienced partners only for this day. We feel honored and ready to bring a truly unique coffeehouse experience to this market, one that not only will meet, but will exceed our customers' expectations every day."
Since 1971, Starbucks Coffee Company has been committed to sourcing and roasting high-quality arabica coffee. Today, with more than 25,000 stores around the globe, Starbucks is the premier roaster and retailer of specialty coffee in the world.
Alsea is the leading restaurant operator in Latin America and Spain of global brands in the quick service, coffee shop, casual and family dining segments. It has a diversified portfolio, with brands such as Domino's Pizza, Starbucks, Burger King, Chili's, California Pizza Kitchen, P.F. Chang's, Italianni's, The Cheesecake Factory, Vips, El Portón, Archie's, Foster's Hollywood, LAVACA and Cañas y Tapas. The company operates more than 3,300 units and has more than 70,000 employees in Mexico, Argentina, Chile, Colombia, Brazil and Spain.