Starbucks "embarrassed" by accusations of racial profiling in US cafes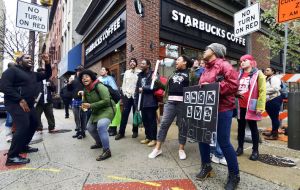 Starbucks' executive chairman has said he is "embarrassed" by the recent accusations of racial profiling in the company's US cafes. Howard Schultz's comments came after Starbucks announced it will close US stores on 29 May for company-wide "racial bias training".
The initiative is in response to the arrest of two black men for trespassing at a Philadelphia Starbucks last week. The two men were waiting for a friend when the manager called the police.
"I think what occurred was reprehensible at every single level," Mr. Schultz told CBS News on Wednesday.
"The announcement we made yesterday about closing our stores, 8,000 stores closed, to do significant training with our people is just the beginning of what we will do to transform the way we do business and educate our people on unconscious bias."
The former Starbucks CEO added that the firm is working with the NAACP and Equal Justice Initiative to assist company efforts to reduce unconscious bias in employees.
"There's no doubt in my mind that the reason that they [police] were called was because they were African American," he said. "That's not who Starbucks is."
The coffee company has since apologized over the incident as protesters called for a boycott of Starbucks. Mr. Schultz said that the two black men from Philadelphia might also be working with Starbucks in the future.
According to Schultz, the store manager who called the police has said she is "interested" in speaking with the two men. He added that this could be a "unique opportunity" to reconcile.
"Perhaps something good can come out of this and by that I mean, this has highlighted for us that we have more work to do as a company."
Days after Starbucks apologized to the Philadelphia men, mobile phone footage emerged of an apparent race-related incident in a Starbucks store in California.
Brandon Ward, a black Starbucks customer in Torrance in southern California, posted a video on social media purporting to show an incident in January, in which he was barred from using a toilet - despite being a paying customer - while a white man who hadn't bought anything was allowed to use the facilities.
Mr Schultz told CBS it was possible that the Philadelphia incident was not "isolated" and the company would continue to examine its policies.