The Castro dynasty begins its 'controlled' exit under president Diaz-Canel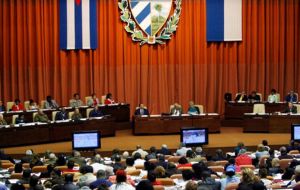 An era will end in Communist-dynastic Cuba on Thursday when President Raul Castro retires, handing over the reins to his right hand man Miguel Diaz-Canel, born the year after brothers Fidel and Raul led their 1959 leftist revolution. However after nearly 60 years of Castro rule, the change is not expected to herald sweeping reforms to the island's state-run economy and one-party system, one of the last in the world.
First Vice President Diaz-Canel, 57, is seen as a stalwart of the Communist Party, designated by the constitution as Cuba's guiding political force, who has worked his way up the party's ranks over three decades. Raul Castro, 86, will retain considerable power as he will remain head of the Communist Party until a congress in 2021.
For many Cubans, struggling with economic hardships, the transition in leader is seen as merely symbolic.
"We always wish the symbolic would translate into real and concrete actions for our lives," said Jose Jasan Nieves, 30, the editor of an alternative news outlet to the state-run media monopoly. "But this isn't the case."
Lawmakers will gather on Thursday morning at a convention centre in a leafy Havana suburb to announce the results of their vote on the unopposed candidacy of Diaz-Canel, put forward by a party-backed commission on Wednesday. He will be immediately sworn-in.
The results of votes for unopposed candidates for the vice presidents and members of Cuba's council of state, its top executive body, will also be announced.
Cubans hope the next government can resurrect one of the world's last Soviet-style centrally planned economies that has failed to improve under limited market reforms by Castro. Analysts say it will be tricky for Diaz-Canel to get the party and government to deepen the reform process, given his predecessor struggled to do so despite his clout as one of the revolutionary leaders.
Raúl Castro allowed Cubans to travel more freely and to own cellphones and property, while expanding internet access, albeit continuing to limit public dissent. On the economic front, he encouraged the creation of small private businesses from hairdressers to restaurants while encouraging more foreign investment.
But he did not get around to implementing most of his planned reforms, including key ones such as the unification of Cuba's dual currency system - that will fall now to Diaz-Canel.
For more than two decades, two currencies have legally circulated in Cuba at multiple exchange rates, distorting the economy. The peso is used to pay most wages and local goods, while the CUC is used in the tourism industry, foreign trade and upscale eateries and stores carrying imported goods.