First shipment of Argentine lemons to the US in 17 years
Friday, April 20th 2018 - 08:38 UTC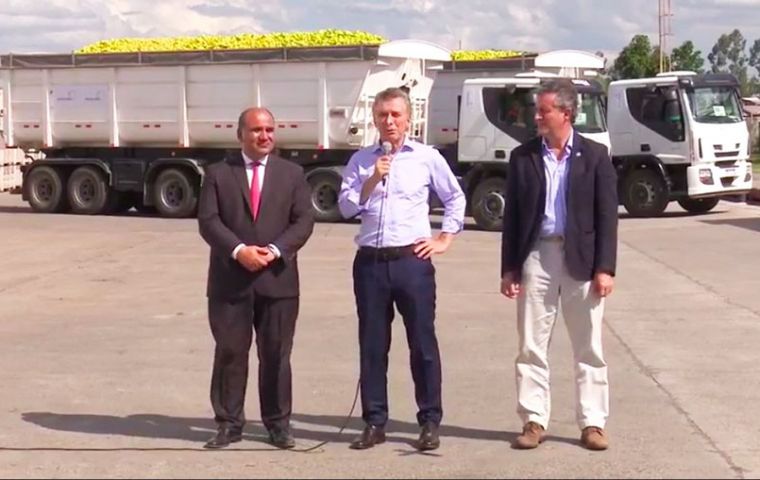 Argentina sent its first shipment of lemons to the United States in 17 years, a few months after President Donald Trump authorized citrus imports from the country.
"Let's send off the first truck, which will carry our produce to our brothers in the United States," Argentine President Mauricio Macri said during an event in the northern lemon-growing province of Tucuman.
Argentina had been requesting an authorization to export lemons to the U.S. market since 2008, after a ban on Argentine citrus was established by the U.S. Department of Agriculture in Sept. 2001 due to plant pests and diseases in Argentina.
After a long negotiation, in 2016 the administration of then-President Barack Obama removed the ban, although that decision was overturned by Donald Trump a few weeks after being sworn in as President.
Last August, the U.S. president finally authorized lemon imports from Argentina. The first shipment, however, had to wait until the harvest, which just recently began.
The first truck, carrying 30 tons of high-quality lemons, left on Wednesday from Tucuman toward the port of Rosario, from where the fruit will be shipped to the United States.
"The quality of Tucuman lemons is outstanding. We were able to access the U.S. market through hard work and with the help national and provincial institutions, as well as the private sector," Roberto Sanchez Loria, president of the Tucuman Citrus Association, said.
According to information from the Tucuman provincial government, Argentina is the world's largest producer and exporter of lemons, with a yearly output of 1.5 million tons.
Tucuman produces 84% of Argentine lemons, and citrus exports provide the province with US$ 800 million in revenue per year.
"Today is a historic day because it marks a before and after. Today, the 50,000 people that work in the lemon industry can renew their hopes for a better future," Tucuman Gov. Juan Manzur said.