Lopez Obrador closer to the Mexican presidency: 22 percentage points ahead of his closest rival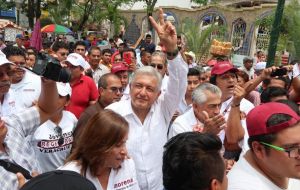 Mexico's frontrunner has just clocked a new milestone in his race toward the presidency, distancing himself from his rivals by 22 percentage points in a new poll ahead of the July 1 election.
Andres Manuel Lopez Obrador, whose economic proposals have unsettled investors, was backed by 48% in a poll by Reforma newspaper, while support for Ricardo Anaya of a right-left coalition slid to 26%. Jose Antonio Meade of the ruling PRI party remained steady at 18%.
Lopez Obrador, who's known as AMLO, has doubled down on some of his leftist policies as he's surged ahead in polls. In recent weeks, he's pledged to freeze gasoline and other energy prices for three years and brought back an old promise to hold a public consultation about an energy reform that opened the nation to private drilling.
"No other candidate in the history of Mexican democracy has ever cleaned the clock of his adversaries in a presidential campaign as AMLO is doing this time around," said Carlos Bravo, a political scientist at Mexico City's Center for Economic Research and Teaching.
"Unless he screws up big time, one of his rivals does something truly heroic, or there is fraud, I would say this election is as close to over as it can be."
The peso, which has rallied the most this year among major currencies, pared some of its gains today, rising just 0.2% to 18.0077 per dollar at 8:30 a.m. in Mexico City. The currency isn't fully reacting to electoral risk as investors wait until the vote gets closer and as positive news on a Nafta deal becomes the main driver for investors, according to Marco Oviedo, chief Latin American economist for Barclays Plc.
The Reforma survey interviewed 1,200 people between April 12 and 15 and had a margin of error of plus or minus 3.7 percent. There may still be hope for AMLO's rivals, Oviedo said.
"History shows that in Mexico, without a second round, the strategic last minute vote counts," the Barclays' economist pointed out.