Nazi submarine wreck off Denmark torpedoes theory that Hitler fled to Argentina
Friday, April 20th 2018 - 09:23 UTC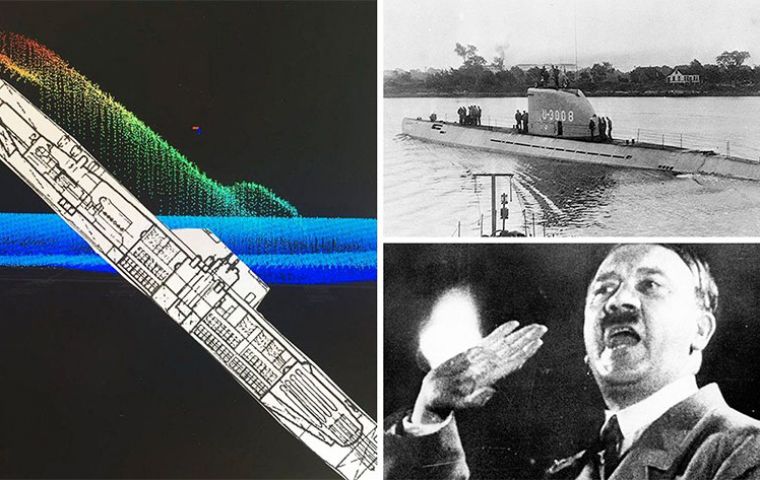 A missing World War Two U-boat—which has long been rumored to have carried Nazi leaders to South America as the Third Reich collapsed—has been found off the coast of Denmark. The U-3523 submarine, a cutting-edge vessel developed at the very end of the war, was discovered at a depth of around 400 feet, 10 nautical miles north of the Danish Coast, by researchers at Sea War Museum Jutland.
The submarine was one of Nazi Germany's Type XXI U-boats, which could stay underwater for longer and travel further than their predecessors. Only two of 118 planned Type XXIs entered service, and neither saw combat.
The U-3523's long range spawned theories that it carried senior Nazi figures and their fortunes to the safety of South America as Nazi Germany was overrun by the Allies in 1945.
U-3523 was sunk by a British bomber on 6 May 1945 with the loss of all 58 crewmembers. Failure to find the wreck gave birth to speculation over its mysterious final missions. Its eventual resting place is around 9 nautical miles from where the British bomber pilots reported it.
German forces in Denmark had surrendered the day before, meaning the submarine was likely not on combat patrol but instead on the run, the research team said. There were even suggestions, based on a declassified CIA document, that Adolf Hitler had used the submarine to escape.
Disappointingly for conspiracy theory enthusiasts, the team that found the wreck says there is no evidence it was carrying Nazi leaders or loot, and they believe the submarine was actually fleeing to Norway when it was sunk, not South America.
A handful of high-ranking Nazis escaped to South America at the end of the war, where there were given refuge by sympathetic governments. Some of the most high-profile escapees include Josef Mengele, nicknamed the "Angel of Death," a doctor who experimented on prisoners at the Auschwitz concentration camp. Mengele died in Brazil in 1979 without ever being brought to justice.
Adolf Eichmann, one of the major organizers of the Holocaust, also fled to Argentina after the war. Unlike Mengele, Israel's Mossad security services were able to track him down. They abducted Eichmann in Buenos Aires and brought him to Israel, where he was tried for his crimes and hanged in 1962.
Nazis escaped Europe via the so-called "rat lines" set up by German and foreign sympathizers. Members of the Red Cross and the Vatican were among those who helped fugitives, with as many as 9.000 finding their way to South America.
After the war, the allies took the remaining Type XXI U-boats and used them to developed their own submarine technology. The Type XXI design inspired the Soviet Union Whiskey-class and the U.S. Tang-class submarines, which remained in service in both navies until the 1980s.