Woman power in Germany: the two most important leaders are female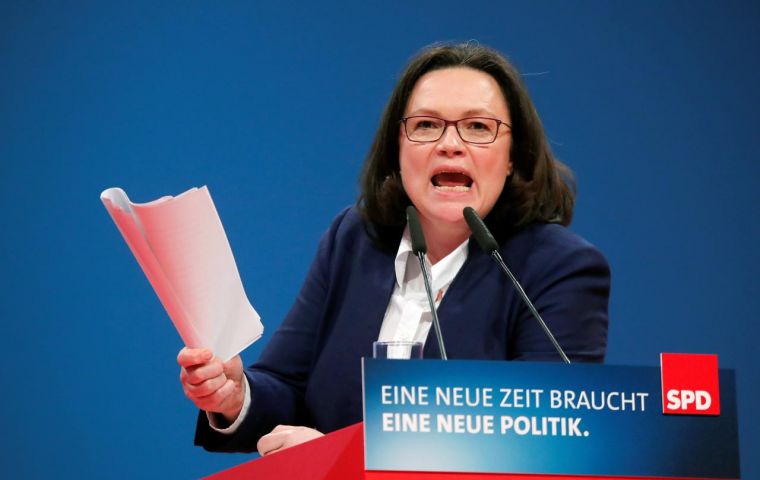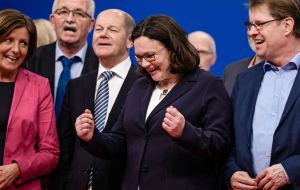 Germany's junior partner in the ruling coalition, the Social Democrats (SPD), has elected its first female leader in the party's 154-year history. Former Labour Minister Andrea Nahles was chosen to replace Martin Schulz, who resigned after the SPD's worst result since 1933 in last year's polls.
Ms Nahles, 47, beat a former policewoman and mayor of the city of Flensburg, Simone Lange, to the job. In her acceptance speech, she vowed to fight for social justice and welfare.
"We need a framework of solidarity in the economy and finance," she said at the party's convention in Wiesbaden. Because solidarity is what is most lacking in this globalised, neo-liberal and turbo-digital world. And, let us be honest, also, to a certain extent, in social democracy itself."
From the left wing of the party, she once led its youth wing, Jusos, and is close to trade unions. Known for her blunt manner of speaking, the bricklayer's daughter once said she wanted to be either a housewife or chancellor of Germany.
"Today, at this party congress, we're breaking through the glass ceiling in the SPD," she told the convention. "And the ceiling will stay open."
Her stint at the head of Europe's oldest social democratic party got off to rocky start, however, as she recorded 66% in the party's ballot against Ms Lange. It was the second-worst result since the Second World War for a winner in an SPD leadership contest.
Some in the party resented her support for rejoining a coalition with Chancellor Angela Merkel's conservatives. In contrast to Ms Merkel, who grew up in the former East Germany, Ms Nahles was born and grew up in West Germany, in the Eifel region, where she still lives in her native village, Weiler.
The chancellor is a physicist by training while the new SPD leader has a degree in German literature. A single mother with one young daughter, Ms Nahles, like Ms Merkel, is a practicing Christian, but Roman Catholic, not Lutheran.
Despite their political differences, the two leaders are said to have developed a close relationship.
"It's something of a miracle they can stand each other at all, given that they seem to come from two, completely different planets. Merkel, the control freak, and Nahles the impulsive politician," Germany's Spiegel magazine wrote last month.