Falklands' new tourism association will attend IAATO conference in Rhode Island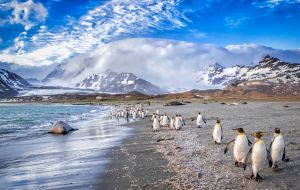 The Falklands Tourism Association, a newly created organization, will be present at the coming conference of the International Association of Antarctic Tour Operators, IAATO, scheduled to be held from 1-3 May in Newport, Rhode Island, USA.
Carli Sudder, Chair of the newly constituted FTA and Vice-Chair Carl Stroud visited the Penguin News to explain all about it.
The new Association was formed as part of the recommendations of the Tourism Development Strategy, Carli explained. Unlike the Falkland Islands Tourist Board, it is a members' organization, open to any individuals or organization involved in the tourism industry in the Islands.
Although a kind of membership of the Falkland Islands Tourist Board exists, as a means for example of allowing the use of the Visitor Centre car park, it no longer has a contributing membership, Carli explained, but instead a committee on which the new association will have a seat.
It is the Tourist Board which makes policy decisions, runs courses, certifies tour guides, runs the visitor centre and submits an annual request for subvention to the government to finance its activities and to further the development of the tourism-related infrastructure.
Carl and Carli defined the principal function of the new Falkland Islands Tourism Association to be the voice of the industry in the Tourist Board's deliberations. For that reason, it has a position on the Tourist Board's Committee.
The idea, Carli said, is that the new association should act as a two-way conduit of information between the Tourist Board and those directly involved in the industry.
Unlike the Falkland Islands Tourist Board, the Falkland Islands Tourism Association is totally independent of government, having no MLA membership.
Of course, as Carl explained, receiving no funds from government, the FITA is entirely reliant on its own resources.
In order to represent the Falklands tourism suppliers effectively to FITB and influence its policy, Carli and Carl hope that membership will soon swell to include everyone involved.
At just £10 a year it seems like a bargain.
The other officials of the Falkland Islands Tourism Association are: Margaret Williams (Secretary) Stacey McKay (Treasurer) Phillip Middleton, Brian Summers and Sarah Crofts, all of whom will be glad to hear from those with an interest in joining. (Penguin News)