Falklands will have a "wow" 54-seat cinema in a year's time
Friday, April 27th 2018 - 09:10 UTC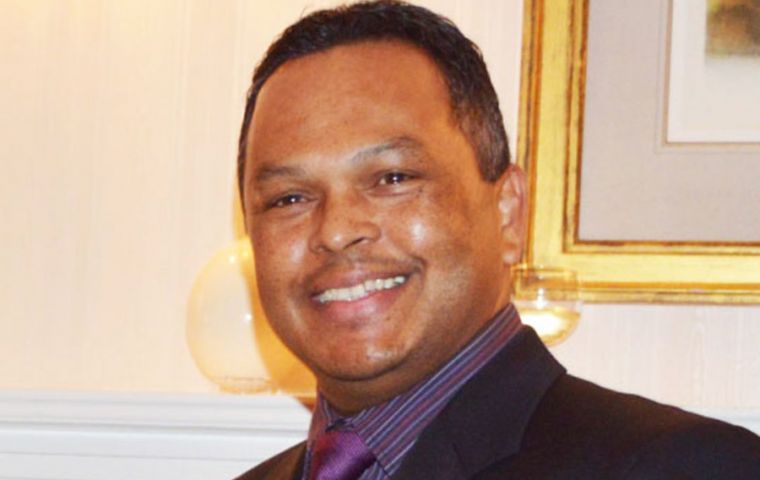 It may be too soon to invest in a large bag of popcorn and to book a baby sitter, but cinema-going in the Falkland Islands' capital Stanley, which died out in the late seventies is set to begin again, hopefully, if all goes well by March or April 2019.
This time, it won't be a case of sitting on hard and rickety chairs or enduring long pauses while Joe Booth (the legendary Stanley cinema provider) changed the reels.
What is planned, as Malvina House Hotel Manager Carl Stroud explained to Penguin News, is a proper cinema with something of a "wow" factor. The seats, 54 of them, will, he assures us, be plush and comfortable and there will be space for two wheel chairs.
The cinema itself will be on the top floor of a two-storey building which will take shape above the current huge excavation pictured above. The ground floor will provide new accommodation for the hotel's large number of staff.
Access to the cinema's spacious foyer, will be by stairs located in what until recently was the hotel's private dining room.
There will also be a lift to the cinema floor for wheel chair and other incapacitated cinema-goers. The cinema opening times and hours will, says Carl, be determined by public demand, but it is also envisaged that the auditorium will serve other purposes, being ideal for example as a small lecture theatre.
One potential problem with running a cinema in a remote country like the Falklands is how and where films can be obtained, particularly the kind of modern releases currently available to those willing to make the long drive to MPA.
While details have yet to be finalized, Carl assured Penguin News that negotiations are underway with a distributor and a successful outcome is confidently expected. (PN)