Koreas leaders in historic summit agree to rid the peninsula of nuclear weapons
Saturday, April 28th 2018 - 07:30 UTC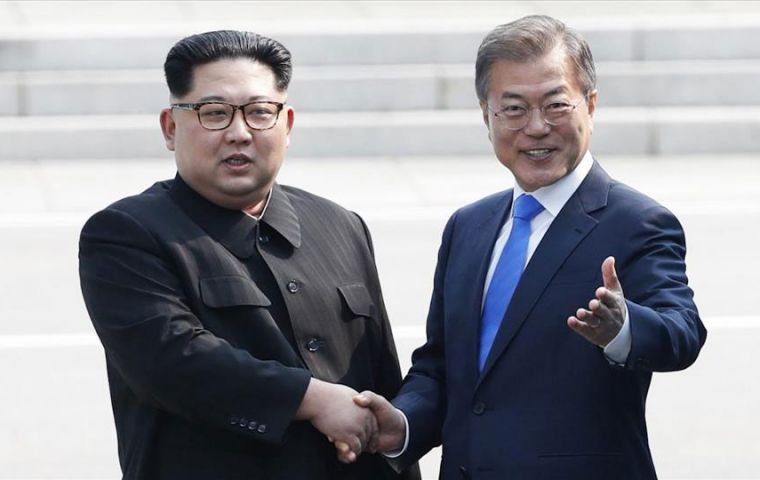 Friday's summit between the leaders of North and South Korea was a "historic meeting" paving the way for the start of a new era, North Korea's media say. North's Kim Jong-un and Moon Jae-in of South Korea agreed to work to rid the peninsula of nuclear weapons.
The official KCNA news agency hailed this as a "new milestone" in the path to joint prosperity. It also carried the full text of the declaration.
China and the United States both welcomed the news. However, US President Donald Trump said he would continue to exert maximum pressure on North Korea, as he prepares to meet Mr. Kim in the coming weeks.
"We're not going to be played, OK?" he said. "We're going to hopefully make a deal."
After the talks at the border, Mr Kim and Mr Moon also agreed to push towards turning the armistice that ended the Korean War in 1953 into a peace treaty this year.
The summit came just months after warlike rhetoric from North Korea.
Details of how de-nuclearization would be achieved were not made clear, and many analysts remain skeptical about the North's apparent enthusiasm for engagement. An issue for the North is the security guarantee extended by the US, a nuclear power, to South Korea and Japan and its military presence in both countries.
Previous inter-Korean agreements have included similar pledges but were later abandoned after the North resorted to nuclear and missile tests and the South elected more conservative presidents. Mr. Kim said the two leaders had agreed to work to prevent a repeat of the region's "unfortunate history" in which progress had "fizzled out".
"There may be backlash, hardship and frustration," he said, adding: "A victory cannot be achieved without pain." Other points the leaders agreed on in a joint statement were: An end to "hostile activities" between the two nations; Changing the demilitarized zone (DMZ) that divides the country into a "peace zone" by ceasing propaganda broadcasts; An arms reduction in the region pending the easing of military tension; To push for four-way talks involving the US and China; Organizing a reunion of families left divided by the war; Connecting and modernizing railways and roads across the border; Further joint participation in sporting events, including this year's Asian Games.
The commitment to denuclearization does not explicitly refer to North Korea halting its nuclear activities but rather to the aim of "a nuclear-free Korean peninsula".
Mr Kim was accompanied for the symbolic discussions by nine officials, including his powerful sister, Kim Yo-jong.