Temer again suspends Asian tour: a ports' investigation has the president nervous
Monday, April 30th 2018 - 07:53 UTC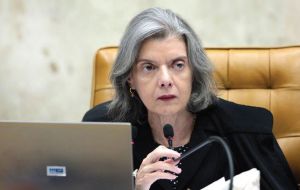 Brazilian president Michel Temer was again forced to suspend a trip to Asia which was scheduled for next week. The head of state had originally planned to travel last January but had to suspend it following on medical advice.
In effect earlier this year the Brazilian president had to undergo urinary track surgery. The Asian tour included Singapore, Thailand, Indonesia and Vietnam and was rescheduled for May this year.
Apparently the formal excuse for this new cancelling are some crucial votes in Congress expected in the first half of May. Temer was supposed to leave 5 May with the purpose of opening new markets for Brazilian exports, and was expected back on 14 May.
Besides there is a institutional formality since Brazil currently has no vice-president, and when Temer leaves the country the post should be covered by either the president of the Lower House, Rodrigo Maia or the Senate speaker, Eunicio Oliverira. Both are in the current succession line of the Brazilian presidency.
However earlier this month when Temer left for Peru to the Americas Summit, Maia and Oliveira also travelled overseas. This is because they fear being caught in a constitutional article which refers to ineligibility for this year's elections, in case they occupy the Brazilian presidency even for a short period.
As a result of this Justice Carmen Lucia, head of Brazil's Supreme Federal Tribunal became president while Temer, Maia and Eunicio Oliveira were overseas.
But the main reason seems to be a piece published by Folha de Sao Paulo reporting that Federal Police investigators believe president Temer was involved in money laundering with the funds received from the ports lobby, and which was invested in revamping several homes of the family.
The Federal Police is looking into a decree signed by Temer last year which openly benefits the ports lobby. Several friends of the president spent some time in jail in late March as part of the so called Operation Skala. Temer argues the decree was not intent to favor any party in particular, but the FP thinks differently.
Besides the FP have summoned Maristela Temer, daughter of president, to declare sometime this week and explain why a friend of her father, Colonel Lima paid for the reforms to her house in Sao Paulo.
A furious Temer in a public statement responded that the "raft of lies" against his honor and attempts to incriminate his family, are clearly politically motivated.