UK agrees on new measures to increase transparency in offshore havens
Wednesday, May 2nd 2018 - 08:25 UTC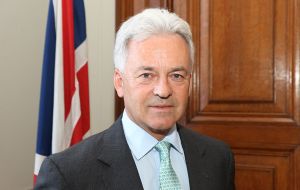 The British government has agreed to calls for new measures aimed at increasing transparency in offshore tax havens. Facing a possible Commons defeat, ministers said they would not oppose an amendment to force British overseas territories to publish details of the true owners of companies based there.
Campaigners say public registers make it easier to uncover corruption, money laundering and tax dodging. The move was backed by both Labour and Tory MPs. The government has also agreed to a new laws to sanction people suspected of gross human rights abuses.
With no Conservative majority in the House of Commons, the government is vulnerable to any rebellion, and 19 Tory MPs had backed the amendment on company ownership registers.
As MPs debated the Sanctions and Anti-Money Laundering Bill in the Commons, Foreign Office Minister Sir Alan Duncan said the government had not wanted to damage the overseas territories' autonomy by legislating directly.
But he added: "We've listened to the strength of feeling in the House on this issue and accept that it is without a doubt the majority view of this House that the overseas territories should have public registers."
He added that the government would "respect the will of the House" and not vote against the amendment put forward by Conservative MP Andrew Mitchell and Labour's Dame Margaret Hodge.
The amendment would require the UK government to take steps to provide that British Overseas Territories establish publicly accessible registers of the beneficial ownership of companies. It does not include Britain's crown dependencies, Jersey, Guernsey and the Isle of Man.
Oxfam welcomed the government's concession, which it said would help developing countries "recoup billions of lost revenue", and Transparency International said it was "a hugely significant moment".
As well as the beneficial ownership register, Sir Alan confirmed the bill would impose sanctions for human rights abuses. It is known as the "Magnitsky" amendment after a Russian lawyer who died in prison after alleging fraud by state officials.
Sir Alan said that anyone sanctioned under the bill would have their names published on a publicly-availably list.