Trump said date and location for meeting with Kim Jong Un has been set
Saturday, May 5th 2018 - 09:08 UTC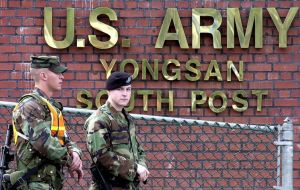 President Donald Trump on Friday said the date and location have been set for a meeting with North Korean leader Kim Jong Un, building suspense for the unprecedented talks, as South Korea said it would oppose a withdrawal of U.S. troops from the area.
The White House has said the first meeting ever between sitting U.S. and North Korean leaders could take place in the coming weeks. Trump is to push North Korea to give up its nuclear weapons.
The demilitarized zone, or DMZ, between North and South Korea, and Singapore are among the top choices being considered for the summit. Trump this week expressed a preference for the DMZ but also said Singapore was possible.
The Peace House at the DMZ was the venue for a meeting last month between Kim and South Korean President Moon Jae-in.
The White House announced that Trump will host Moon at the White House on May 22, in talks aimed at demonstrating allied unity before the Trump-Kim summit. The Moon visit was announced after Trump's national security adviser, John Bolton, met with his South Korean counterpart, Chung Eui-yong, at the White House on Friday.
Chung told reporters afterward that it was "unacceptable that the issue of the U.S. forces Korea keeps being raised."
The New York Times said Trump had asked the Pentagon for troop withdrawal options, although Trump said it was not true and Bolton called the report "utter nonsense."
"Now, I have to tell you, at some point into the future, I would like to save the money," Trump told reporters. "But troops are not on the table."
The White House said in a statement late on Friday that Bolton and Chung said there are no plans to change the U.S.–South Korea bilateral defense posture.
The U.S. government is looking into reports that three Americans arrested in recent years in North Korea had recently been relocated from a labor camp to a hotel near Pyongyang, as expectations grow that they will be released before the summit.
White House spokeswoman Sarah Sanders said on Thursday that if North Korea were to free the three Americans, "We certainly would see this as a sign of good will" ahead of the Trump-Kim summit.