US Navy resurrecting Second Fleet to patrol US coast and north Atlantic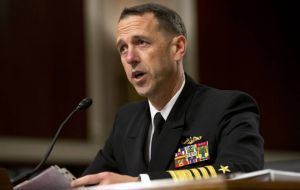 With tensions between NATO and Russia rising, the U.S. military is resurrecting a fleet to patrol the Atlantic Ocean and help respond to global contingencies. The U.S. Second Fleet will provide forces along the U.S. coast and in the northern Atlantic Ocean, according to Chief of Naval Operations, Adm. John Richardson, who made the announcement Friday during a change of command ceremony in Norfolk, Virginia.
"Our National Defense Strategy makes clear that we're back in an era of great power competition as the security environment continues to grow more challenging and complex," Richardson said. "That's why today, we're standing up Second Fleet to address these changes, particularly in the north Atlantic."
Russian submarine activity is at its highest levels since the Cold War, according to NATO and U.S. officials. Russia recently sent a spy ship up the east coast of the United States and the country announced plans to develop an underwater nuclear armed drone.
The Second Fleet, disestablished in 2011, conducted military exercises with NATO, trained and certified ships and crews for deployment, provided humanitarian assistance and conducted disaster response missions.
The fleet also oversaw the blockade of Cuba during the Cuban Missile Crisis, rescued Americans in Grenada during Operation Urgent Fury in October 1983 and trained and certified half the U.S. fleet for Operations Desert Shield and Desert Storm.
The Defense Department also announced Friday that U.S. officials offered to host and lead NATO's newly proposed Joint Force Command for the Atlantic at Norfolk, Va.