Putin begins his fourth six-year term promising to multiply Russia's' strength and prosperity
Tuesday, May 8th 2018 - 08:42 UTC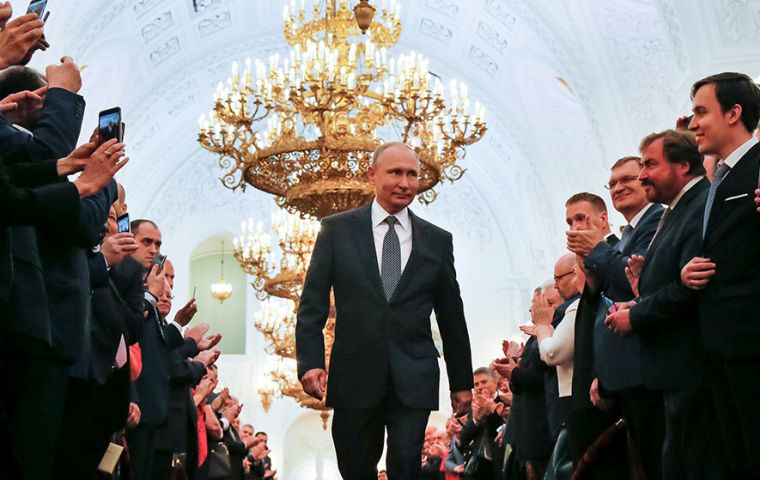 Russian President Vladimir Putin was sworn in to a fourth term on Monday, extending his 18-year rule amid promises of continuity in foreign policy and renewed efforts toward building prosperity at home. During his swearing in ceremony at the gilded Andreyevsky Hall of the Grand Kremlin Palace, Putin assured Russians that his rule had "revived pride" in the country.
"As head of state, I will do all I can to multiply the strength and prosperity of Russia," Putin told a packed room of Russia's political and culture elite. "The object of my life and my work will be to serve the people and the fatherland."
Kremlin officials had hinted that this year's ceremony would be more modest than his 2012 inauguration — which critics mocked over a decision to clear Moscow's streets for the arrival of Putin's motorcade.
Televised images of Putin and his bodyguards alone in the streets of the capital seemed only to emphasize the Russian president had lost touch with the public. Instead, this year's inauguration found the Russian leader diligently working at his desk when a call came notifying him the time to take the oath of office had come.
As Putin donned his jacket and made his way to the ceremony, television viewers were treated to another surprise: he would now travel to official events in a Russian-built limousine rather than his traditional Mercedes. It was a sign of the changing political times.
Putin's fourth term comes as Russia is engaged in a continued showdown with Western powers on numerous fronts, including alleged interference in the U.S. and other Western elections, the poisoning of a former Russian spy in Britain, its annexation of the Crimean peninsula, and a simmering proxy war in Ukraine, among others.
Equally vexing is the Kremlin's ongoing military campaign in Syria, where Russia has clashed with the West over Moscow's support of the regime of President Bashar al-Assad, despite charges of chemical weapons use against civilians. Amid growing public apathy to the military campaign at home, Putin has twice called for a withdrawal of Russian forces, only to backtrack.
Putin's supporters credit him with restoring Russia's might on the world stage. Yet, Russia's actions have also triggered Western sanctions and a deep freeze in relations reminiscent of the grimmest days of the Cold War.
Yet in his speech, Putin seemed to acknowledge the need to address Russians' concerns over an economy still struggling to emerge from recession, low world oil prices and the weight of sanctions.
"Now, we will use all the possibilities we have first of all for the resolution of internal, and most essential, tasks of development," he said. "A new quality of life, well-being, security and health for the people, that is what is important today."
"I'm deeply convinced that such a leap forward can only be secured with a free society that accepts all that is new and advanced," he added.
Underscoring that message, Putin met with young volunteers from his election campaign immediately following the ceremony, posing for selfies and chatting with them about their ideas to aid Russia's renewal. Less convincing was the first act of his new term: reappointing Dmitry Medvedev, his unpopular prime minister, to run the government.
Putin was re-elected in a landslide in March — securing 77 percent of the vote in a race independent monitors criticized over electoral machinations and lack of fair competition. The opposition leader Alexey Navalny — arguably Putin's most dangerous opponent — was barred from the race over a dubious legal technicality.
Even with Putin's overwhelming victory, the election suggested that demographics are a concern for the Kremlin. Putin voters skewed older. The loyalty of younger Russians, who have known Putin as president their whole lives, remains far less certain.
On Saturday, thousands of people, mostly students, protested the prospect of another six years of Putin's rule in rallies in dozens of cities across the country. About 1,600 people were arrested, with more than 700 detained in Moscow alone.