Falklands caught in the post Brexit Galileo space controversy
Thursday, May 10th 2018 - 07:28 UTC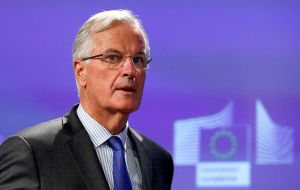 United Kingdom ministers are unilaterally considering stopping EU access to the Galileo satellite earth station in the Falklands and Ascension, according to reports in the UK press. The move comes after Brussels chief Brexit negotiator, Michael Barnier, stated that UK companies would have to be excluded from the development of sensitive Galileo infrastructure following Brexit due to security concerns.
Asked whether any approach had been made to Falkland Islands Government, FIG, regarding restriction of access to the earth station, which sits on FIDC land, Gilbert House did not immediately provide a comment.
Raising the matter in a Commons debate, Conservative MP Daniel Kawczynsky asked, "post Brexit, if the European Union restricts access to the Galileo satellite project, will the Minister undertake for us to restrict its access to the communications infrastructure of the Falklands and Ascension Island?"
Responding to the question, Minister of State for Business, Energy and Industrial Strategy, Sam Gyimah, did not enter into detail: "The Government has been clear that we are unconditionally committed to European security and want to continue working together to develop defense and space capabilities. We feel that the Commission's approach runs counter to what has been agreed as part of article 50, where a shared intent was agreed for strong UK-EU co-operation on defense in the future," he said.
The threat is one in a series of options being explored by London in response to the statement from Brussels. Other options include developing a separate satellite system to rival the €10bn Galileo project, and vetoing the next batch of procurement, which has to be agreed by all members of the European Space Agency. (Penguin News)