Brazil inflation in April below official target; another interest rate cut expected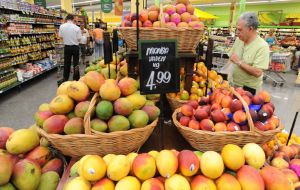 Brazil's inflation rate unexpectedly slowed in April and kept far below the official target, suggesting a recent period of currency weakness is unlikely to keep the central bank from cutting interest rates next week.
Consumer prices tracked by the benchmark IPCA index rose 2.76% from the year before, government statistics agency IBGE said on Thursday.
The central bank targets a year-end inflation rate of 4.5%, plus or minus 1.5 percentage point, which it undershot last year for the first time ever.
This should keep it on track to cut the benchmark Selic interest rate by an additional 25 basis points next week to a record-low 6.25% even as the Brazilian real trades at multiyear lows.
Concerns that a widening U.S. fiscal deficit and accelerating inflation could force the Federal Reserve to tighten policy faster than expected have driven a worldwide emerging market rout. A weaker local currency, in turn, could raise prices of imported goods and drive inflationary pressure at home.
Yet analysts say the weak economy is likely to limit currency pass-through, while underlying inflation trends remain muted.
The IPCA index rose 0.22% from March, below a median estimate of 0.28%.
Yields on interest rate futures fell in early Thursday trading as investors bet the central bank will follow through with its stated plan to cut interest rates next week.