Catches Variable but Falkland Islands Fishing Season Progressing Well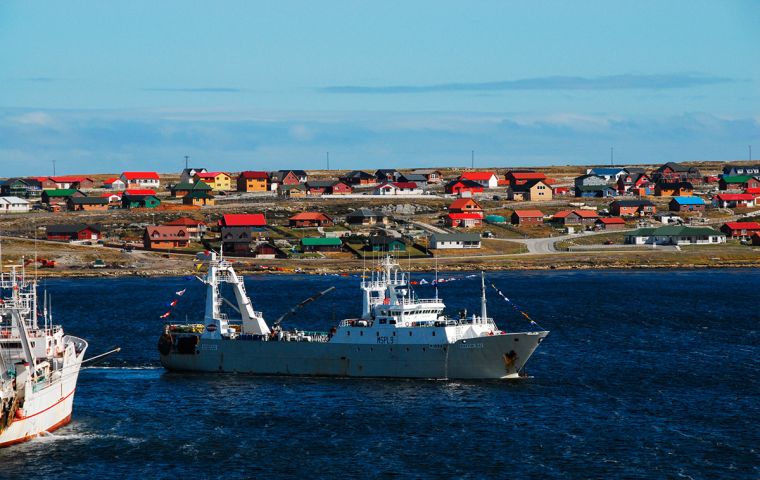 Earlier this week Mercopress announced that a delegation from the Falkland Islands will be joining the UK Foreign and Commonwealth Office in Argentina next week to discuss fisheries data exchange. This announcement comes shortly after a successful visit to the Brussels Seafood Show, where the important access of continued market access post-Brexit was discussed with partners by Falkland Islands fishing companies.
This week Mercopress heard from the Falkland Islands Director of Fisheries and Dr Sasha Arkhipkin about how the key fishing seasons have been going during 2018 to date. It is a positive, but somewhat mixed picture overall. In terms of the Government finances, the Director stated that there should be no need to refund any license fees this year due to low catches. This is useful information for the Falkland Islands Legislative Assembly who is closing in on announcing their budget for the next financial year.
The Director also noted that there had been very limited interactions with Seals this year. Last year the second Loligo season had encountered widespread interactions, leading to the closure of some zones to avoid by catch. Due to this new problem, the industry had worked collaboratively with the fisheries department as regulator to ensure that the issue was minimised this year. A combination of seal exclusion devices and also marine mammal observers (funded by the local industry) were utilised and appear to have worked well.
The Loligo squid season, which closed on the 5th May, was very successful with the highest catch since 1995 of 43,000 tonnes recorded. The season had been extended by a handful of days for some vessels due to earlier inclement weather preventing them from fishing. There were peak catching periods during March and April where the majority of squid were caught. Catches towards the end of the season dropped off. Squid being caught were also smaller at this point, with it being thought that this may have been the second cohort of squid entering the area. The second season will open later in the year, when it is hoped that these squid will then be caught at larger sizes.
In relation to the Illex season, this is ongoing and is due to close on the 15th June potentially if all goes to plan. One hundred and five vessels were licensed for Falkland Islands waters, mainly focused in the Northern and North-Eastern parts of the Falklands Shelf. Early weeks of the season saw high variability of catches and no apparent concentration of squid in any one particular area. Due to this catches currently stand at c. 50,000 tonnes.
The industry in the Islands will now await news of the discussion in Argentina next week to see if greater regional data sharing can help to further improve management of stocks in the region.