MP Craig Mackinlay demands right for Gibraltar to elect an MP to Westminster
Saturday, May 12th 2018 - 06:58 UTC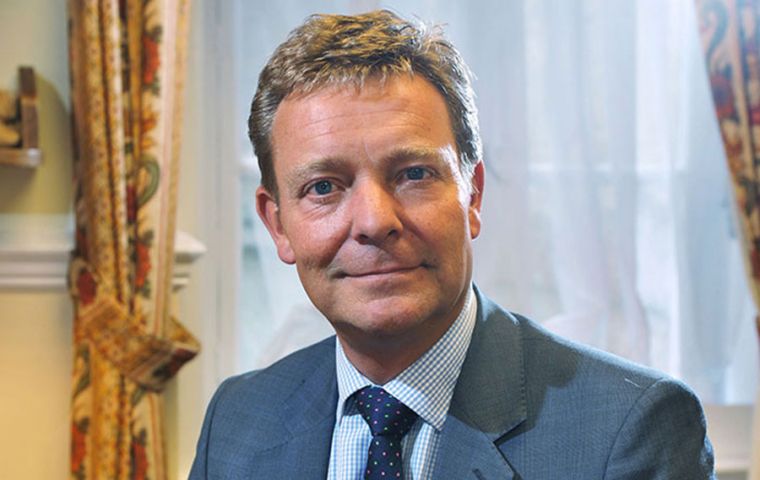 Brexit must make us think anew and refresh Gibraltar's relationship with the UK. It is time for the Rock to have a Member of Parliament, writes MP Craig Mackinlay (*) The Overseas Territory that now sits in a unique constitutional position post-Brexit is Gibraltar.
It is the only territory that is a member of the EU. It will also be leaving the EU along with the UK on 29 March 2019. Its relationship with the EU is quite different from any other part of the union, in that it is a member of the single market but not a member of its customs union nor Schengen, despite having a land border with the EU.
Few were surprised that Gibraltar voted Remain at the 2016 EU referendum, reflecting its residents' concerns that the EU had played, at times, a role in balancing the often-fractious demands of its giant neighbour. The good life and strong economy, a beacon in an area of regional unemployment, I can but guess also played a part in its vote for no change.
Gibraltar evokes within us all a special relationship of shared values, shared struggles across the centuries and unwavering loyalty to the Crown. It occupies a unique geographical position as the gatekeeper to the Mediterranean and is one of the most important international bases for the Royal Navy. Whenever it has been presented with a choice as to its future, notably in the shared sovereignty referendum of 2002, it has rejected any change by vast margins.
However, it is the Brexit vote that must make us think anew and refresh Gibraltar's relationship with the UK and to re-assert once more that the Rock is British and will remain so. This is best guaranteed by a closer electoral bond which would also send a clear message to Madrid as to the perpetuity of that bond.
Unlike other Overseas Territories, Gibraltar does not have an option of formal independence, which would be, however unlikely, available to others should they so wish it. The 1713 Treaty of Utrecht ceded Gibraltar to Great Britain in perpetuity, later confirmed in the 1729 Seville Treaty and the Treaty of Paris of 1783. The Treaty had a sting in that Gibraltar can only be British or Spanish, its own unilateral independence is not an option.
While most overseas territories have either their own currencies, shared currencies under the East Caribbean dollar currency union, or indeed use the euro or US dollar, it is only the Falkland Islands and Gibraltar who share sterling as their currency.
The truly unique feature is that it already has electoral links with the UK via its attachment to the South West Region for representation in the European Parliament. This will disappear upon Brexit. There was a cogent argument then that Gibraltar should have electoral representation connected to the UK, and there is a clear argument now.
Gibraltar has a population that is a little light numerically to fulfil a constituency size with a population of just 33,000, and eligible voting roll of 23,000. This is however in the same ball-park of size as the UK constituency of Nah h-Eileanan an Iar, the constituency of the Outer Hebrides with 21,260 voters.
My Ten Minute Rule Bill, if taken further would not impose a Westminster MP upon Gibraltar. The decision on taking up that offer must be made by the residents of Gibraltar and decided by their own internal procedures. It would not change the devo-max settlement of their 2006 constitution. It would signal a perpetual and lasting bond of shared interests.