Argentina seems to have managed Tuesday's challenge, but what comes next?
Wednesday, May 16th 2018 - 09:09 UTC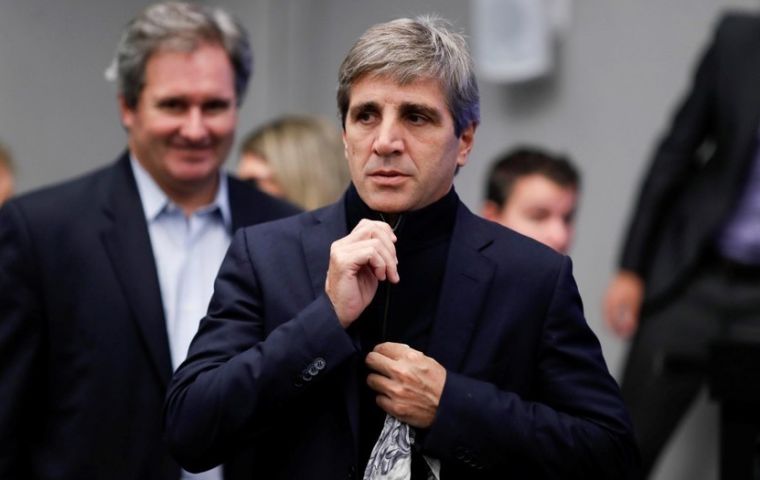 Argentina's central bank on Tuesday rolled over billions of dollars in short-term debt, providing President Mauricio Macri's government with a shot of confidence after weeks of economic volatility. In a statement, the Argentine central bank said it refinanced all of the US$ 26 billion of peso-denominated short term bonds that matured on Tuesday. Investors were attracted by renewal rates of 40% for 36-day Lebac and 38% and 38,5% for 90 days and plus, Lebacs.
Finance minister Luis Caputo also informed that Argentina managed to float additional bonds, equivalent to US$ 3 billion in Pesos, at 20% interest for five-year papers and 19% for eight years papers.
This also helped to absorb liquidity from the market, taking pressure from the Peso which traded 3.61% stronger against the US dollar at 24.63 Pesos.
The Argentine currency since the beginning of the year has lost 12.63% of its value against the greenback, while the Central bank has seen international reserves erode by almost US$ 10bn.
The Argentine government thus seems to have managed to contain the rush from the Peso to the dollar, while it negotiates a stand-by credit from the IMF, estimated in US$ 30bn, according to local media, plus support from other multilateral organizations.
However market analysts argue that the situation still remains potentially volatile, despite the fact it has managed to roll over 25bn dollars in short term bonds taking pressure from the bashed Argentine Peso.
In effect it yet has to see how the Peso loss of purchasing value will impact on prices and overall inflation, and economic activity, although it should be a boost for the export industries, even when bad weather has created a great loss for the soybean crop.
This is particularly serious since on Tuesday the stats office Indec released the consumers price index for April which climbed to 2.7%, accumulating 9.6% in four months when the government's target for the twelve months is 15%, the index on which hopefully labor contracts were to be agreed.
Likewise another question is what conditions the IMF could demand from Argentina for the stand-by loan, particularly referred to balancing the budget, which now stands at 7% of GDP.
IMF has repeatedly said it supports the Macri administration approach to economic policy which is based on gradualism, contrary to the shock experiences of the past.
Therefore many uncertainties remain regarding inflation and how to try and work towards a more balanced budget, without affecting the level of activity and much needed capital investment, to help with jobs and update infrastructure.