Maduro wraps up electoral campaign next to Erdogan and Maradona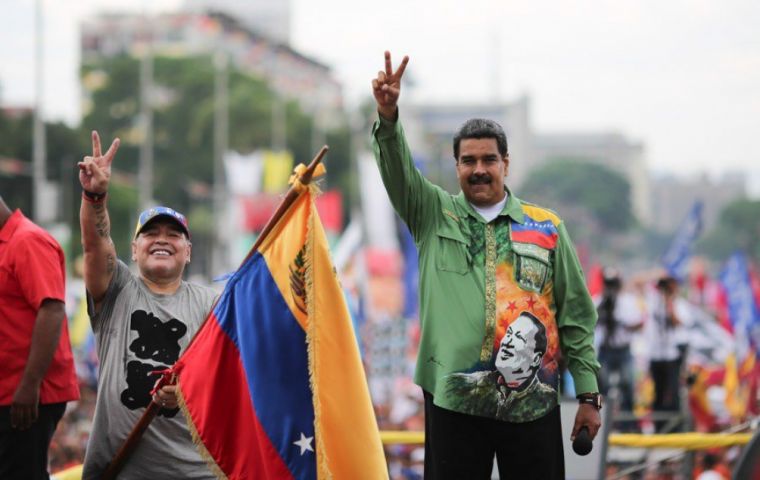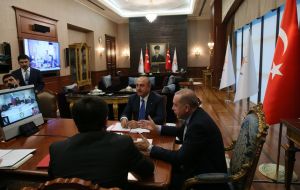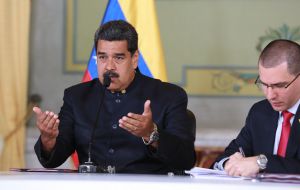 Venezuela's diplomatically isolated president got a show of support from his Turkish counterpart Tayyip Erdogan and Argentine soccer legend Diego Maradona on Thursday ahead of a weekend election widely decried as unfair. The United States, the European Union and major Latin American countries have criticized Sunday's vote in which populist President Nicolas Maduro is likely to win re-election to a six-year term.
The Trump administration has threatened further sanctions and urged Latin America to cut off Venezuelan officials from financial systems and restrict their travel visas.
Any foreign shows of support are especially welcome to Maduro in the run-up to Sunday. On the campaign trail he has sought to legitimize his leadership, while playing down the brutal economic crisis that has Venezuelans skipping meals, succumbing to once controlled diseases, and emigrating en masse.
In a split screen chat broadcast on Venezuelan state television on Thursday, Maduro and Erdogan held a stilted, translated conversation that had several technical problems.
"I have faith you will be triumphant," Erdogan told Maduro, whose main rival is former state Governor Henri Falcon, who broke with an opposition boycott to run for the presidency. In turn, Maduro told Erdogan "Venezuelans are going to give a lesson on democracy and liberty to the world on Sunday."
At Maduro's closing campaign event later on Thursday in central Caracas, Maradona surprised the crowd by dancing to the rhythm of a catchy reggaeton song while waving a Venezuelan yellow, blue and red flag.
Maradona, who has called himself a "soldier" for Maduro, is well-known for supporting leftist politicians and was a friend of his predecessor Hugo Chavez and the late Cuban leader Fidel Castro, whose image is tattooed on his leg.
Maduro regularly says a right-wing, U.S.-led campaign is sabotaging the economy in order to foment a coup and usher in a capitalist leadership.
"I will dedicate my life to fixing the economy of this country .. My spirit is renewed, my energy recharged," Maduro told a crowd of red-shirted supporters at his rally, saying he had been loyal to Chavez's legacy during his first term.
Mainstream economists blame strict currency controls, poor management, and corruption for Venezuela's deep recession. Rights activists also say Maduro has cracked down on protests and unjustly imprisoned activists.