Venezuelans in Uruguay demonstrated by denouncing "fraudulent" presidential elections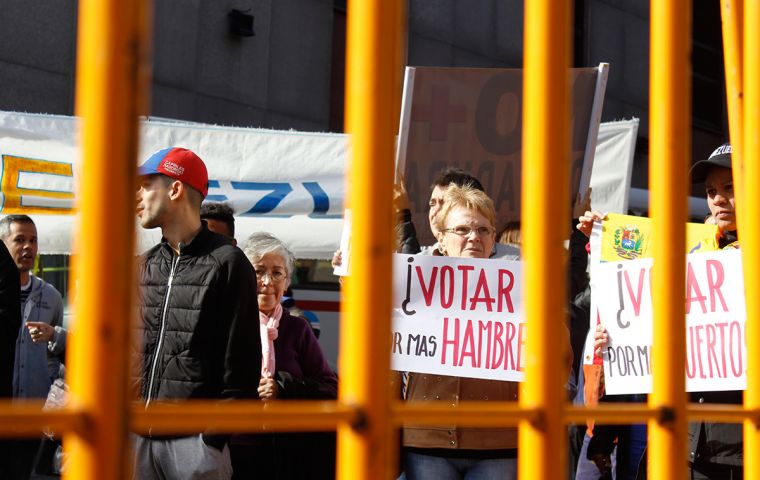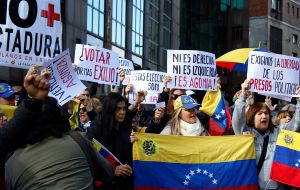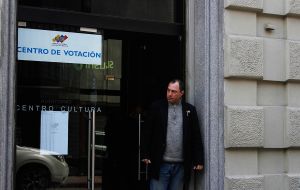 Little by little, around noon on this Sunday, Venezuelans living in Uruguay gathered in front of the Venezuelan embassy in Montevideo to protest against what they consider "unfair and fraudulent" presidential elections. The diplomatic office, where an electoral table was installed where 405 Venezuelans living in Uruguay would be authorized to vote by the electoral register, was fenced with by the police for fear of violent attacks.
Around a hundred Venezuelan and Uruguayan protesters shouted slogans from the police fence that separated them from the consular office, which remained empty since it opened early in the morning.
"Venezuela and the world, against the dictatorship", the people cheered with flags and banners , to which more demonstrators were joining in the course of the afternoon.
When asked by MercoPress, Luis Sarmiento said he attended the protest organized by Venezuelan activists in Montevideo to demand for Human Rights in his country. "I came to protest because the system is completely destroyed in Venezuela, there is no independence of (public) powers that guarantee the validity of this election", Sarmiento said.
Sarmiento said he would participate in the election "if it presented" a vote with a different National Electoral Council (CNE), international worthwhile guarantees and if the electoral registry of Venezuelans in Uruguay were opened, since the majority of Venezuelans do not could vote because no registrations have been opened. "Nothing remains unpunished", the protester warned the consular agents that he considers accomplices of a dictatorship.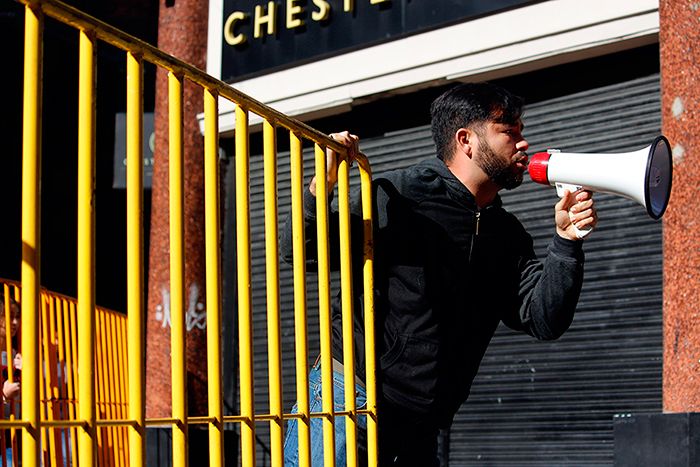 However, a venezuelan voter who approached the embassy to vote, said she feared that the protest would rise in tone and retaliate against people who went to the polls. "If the government does not work, let's get it out of the polls; in a clean way", she said. "They (the opposition) say that the electoral system does not work, but they have already won several times with the same system. And they do not realize that this is the only way out of the government, which otherwise would be a foreign intervention."
"I'm living in Uruguay for a reason. I do not agree with what is happening, but I do not agree with the way they want to resolve it, "affirmed the elector, who did not want to reveal her name.
"What interests me is that this government should leave through democracy. It does not matter the political background of (Henri) Falcón", she told while the protesters were singing, from across the street, the national anthem of Venezuela. "Those who are there protesting may have all the reasons, they have them. But we have to vote, and they have to vote for Falcón", she said.
The Venezuelan voter highlighted the fact that the Venezuelan problem "is that they do not see beyond the first page. You have to see what comes after the second or third page."
Neither ambassador Julio Chirinos nor any consular agent of the embassy agreed to give statements to the press.